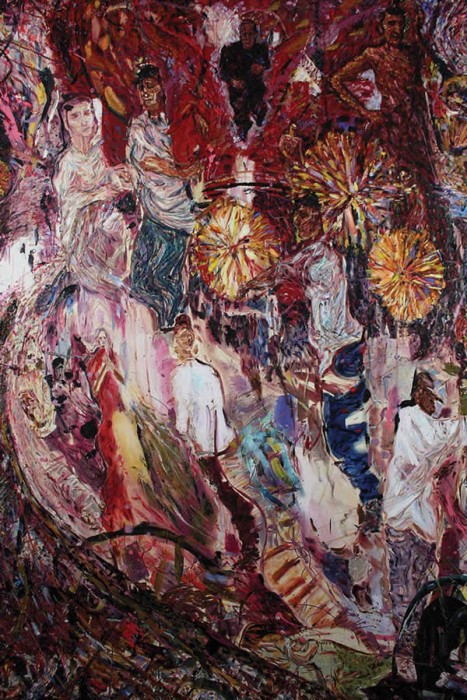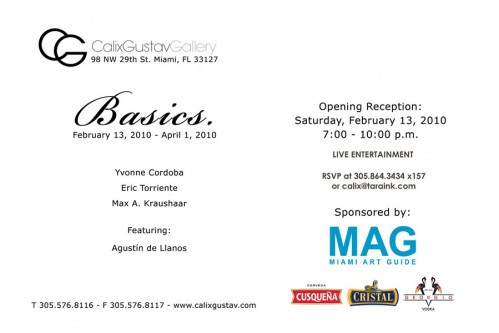 CALIX GUSTAV GALLERY UNVEILS NEW EXHIBITION "BASICS" IN WYNWOOD
WHAT/WHO: Calix Gustav Gallery is pleased to announce the launch of its newest exhibition "Basics," showcasing works by classically trained emerging artists who utilize contemporary subject matters. Hosted by Miami Art Guide and coinciding with Wynwood's monthly Art Walk, Calix Gustav Gallery will host an opening reception on Saturday, February 13, 2010 from 7:00 p.m. to 10:00 p.m. Guests will enjoy live entertainment by Florida International University's School of Music and Miami Symphony, as well as complimentary cocktails courtesy of V Georgio Vodka.
Between the various artists featured, all are united by the underlying theme, "basics," or the connection with one's being through the exploration of the basics of life: solitude, the subconscious, self-expression and revelations, as well as minimalism. Yvonne Cordoba explores esoteric themes – the most notable being solitude – which she portrays as a necessary means through which to achieve self-awareness. Rising talent, Max A. Kraushaar uses reflections of his own subconscious to create what he calls "Expressive Surrealistic Mixed Media." Cuban artist, Eric Torriente presents works from his latest portfolio releases Outbound Tales and The Last Glaciation, expressionistic depictions of old stories and past revelations. Lastly, Agustín de Llanos presents an abstract series of clean, minimalist, elegant works that play with light, dimension, textures and mediums, which he calls "shadows of absences."
For more information on Calix Gustav Gallery, please visit www.calixgustav.com. Events are open to the public – RSVP to calix@taraink.com or 305.864.3434 ext. 157.
WHEN: Basics Reception: Saturday, February 13, 2010; 7 p.m. – 10 p.m.
Gallery Walk: Saturday, February 13, 2010; 7 p.m. – 10 p.m.
Ongoing Exhibition: Saturday, February 13, 2010 – Thursday, April 1, 2010
Gallery visiting hours: Tuesday – Friday, 12:00 p.m. – 6:00 p.m. and Saturday, 12:00 p.m. – 5:00 p.m.
WHERE: Calix Gustav Gallery
Wynwood Arts District
98 NW 29th Street
Miami, FL 33127