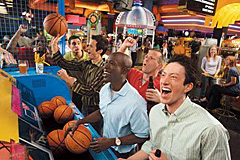 The Art and Culture Center of Hollywood, Dave & Buster's, and the Hollywood Gazette invite you to…
Party with a Purpose
Wednesday, January 20, 2010
5:30 – 7:30 pm
Dave & Buster's, Hollywood, FL
$10 per person – all proceeds benefit the Center
Come party with us at Dave & Buster's! Have a great time and benefit the Art and Culture Center of Hollywood at the same time by attending Hollywood Gazette's Party with a Purpose on Wednesday, January 20, 2010 from 5:30 to 7:30 at Dave & Buster's, located at 3000 Oakwood Blvd.
Each month, the Hollywood Gazette and Dave & Buster's sponsor Party with a Purpose, a networking and fund-raising event for a different charity in the community, and the Center was selected for January.
Enjoy:
• Complimentary hors d'oeurves
• Half priced happy hour cocktails
• Free shuffleboard and billiards
• Door prize drawings
• Win a chance for a fabulous raffle basket containing a $100 gift certificate to
Books & Books and a ticket to our Abracadabra special event where everyone
goes home with a piece of art valued at $500 or higher
• and there's more!
Tickets are only $10! Click here to purchase tickets or for more information. Tickets also available at the door.
Art and Culture Center of Hollywood
1650 Harrison St.
Hollywood, FL 33020
954. 921. 3274
954. 921. 3273 fax
ArtAndCultureCenter.org