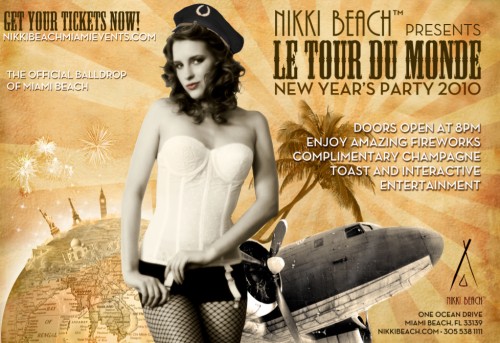 Around the world in one night: Nikki Beach brings its top global destinations to Miami Beach
Join Nikki Beach as we tour the world in one night, ringing in new years from St. Barths and St. Tropez to Koh Samui and Marrakech, all while cabana hobnobbing on Miami Beach. Referencing Amelia Earhart's "first woman to fly solo" vintage-chic aviatrix vibe, be among the first to experience Nikki's signature sexy atmosphere, haute cuisine, a private fireworks show, complimentary midnight champagne toast, and the official ball drop of South Beach.
Guests can choose from a vast array of options to ring in 2010 from a private and romantic dinner in the tree-lit garden to exclusive VIP opium beds and cabana seating with premium bottle service and an extensive list of hor d'oeuvres. A special New Year 's Eve menu prepared by Executive Chef Gerry Gnassi includes a 5-course dining experience featuring delicacies such as a Foie-Gras Trio paired with banana chutney and green apple tart torchon, Asian Stuffed Lobster with Maryland lump crabmeat, and a Seafood Martini.
Venture upstairs to the exclusive "private terminal" where the newly remodeled Club Nikki – now known as One Ocean – entices New Year's Eve revelers with everything VIP from private tables to surprise performances by renowned aerialist acrobats.
In signature Nikki Beach style, "the sexiest place on earth" provides eye-popping performances by dancers outfitted to match some of Nikki Beach's worldwide destinations. Flamenco stilt walkers from Marbella, Thai Sri-Nuan dancers from Koh Samui, French can-can dancers from St. Tropez, Moroccan belly dancers and fire throwers from Marrakech make their way throughout the venue igniting the crowd's energy and setting the tone for an unforgettable evening. At midnight, guests make a toast with a glass of complimentary champagne while counting down to Nikki Beach's Times Square-style ball drop and illuminating show of fireworks.
To purchase tickets for Le Tour du Monde, New Year's Eve 2010 at Nikki Beach Miami please visit www.nikkibeachmiamievents.com or call 305.538.1111.
About Nikki Beach (www.nikkibeach.com)
In 1998, Nikki Beach introduced the world to the ultimate beach club concept bringing music, entertainment, fashion, dining and art, together. Over a decade later, Nikki Beach continues to make its mark in the world's hottest addresses and trendsetting locales, recently claiming the #1 spot in Travel Channel's World's Sexiest Beach Bars. The Nikki Beach concept has transcended its international venues and grown into a global lifestyle company: a clothing line, Endless Summers by Nikki Beach—which was launched at the 2009 Cannes Film Festival; Marketing and Public Relations Divisions; Global Sponsorships and Special Events; Nikki Beach Music; a VIP Membership card and concierge program; Nikki Style Magazine; and a Hotel and Resorts Division with several new locations to open starting in 2010.
The Nikki Beach lifestyle can now be experienced in nine different countries in thirteen cities: Miami Beach, Florida, USA; St.Tropez, France; Cannes Film Festival, France; St. Barth, French West Indies; Marbella, Spain; Cabo San Lucas, Mexico; New York City, New York, USA; Marrakech, Morocco; Koh Samui, Thailand; Panama City, Panama; Toronto Film Festival, Canada; Vilamoura, Portugal; Portimao, Portugal.
For more information on Nikki Beach, please visit www.nikkibeach.com.