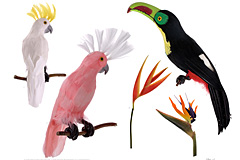 David Almeida: Natural Selection
Dec. 12, 2009 – Jan. 17, 2010
Opening reception: Fri., Dec. 11, 6-9 pm
The work on view is part of a larger series entitled Natural Selection, a term borrowed from Charles Darwin denoting the theory of evolution. The artist, David Almeida, has spent the last few years exploring the ideas of artificiality and replication, and how these concepts are a reflection of contemporary culture.
Click here for more information on David Almeida: Natural Selection.
Image: David Almeida, Plate 17, 2009, 16"x 20" in., archival inkjet print, courtesy of the artist
Art and Culture Center of Hollywood
1650 Harrison St.
Hollywood, FL 33020
954. 921. 3274
ArtAndCultureCenter.org
Thank you for using Soul Of Miami!