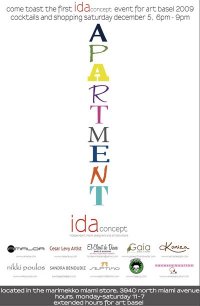 Apartment was a big success! and because of that we are doing it again this weekend. Friday and Saturday. If you couldn't make it for Art Basel you can still see it for gallery walk. Thanks to all of you for your continuous support.
"apartment" 10 independent Miami designers and artists showcasing their work in an "apartment" setting – in the back of Marimekko store, 3490 N. Miami Ave, Design District.
Check the video from last event.
Friday, December 11th. 1:00pm-7:00pm.
Saturday, December 12th. 5:pm-10:00pm. Wine & cheese.