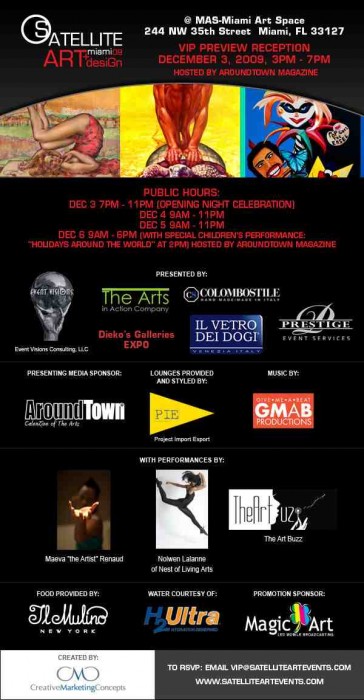 VIP Invitation from SATELLITE Art + Design Show Miami
ARTIST EXHIBITORS: Carlos Cesar Alves, Ana Andras, Paul Andras, Daniel Bilodeau, Andre Brandao, Viktorija Bulava, Jure J. Cekuta, Salvador Dali, Alvaro Daza, Jack Dowd, Phillip Dvorak, Raul Frontal, Susan Gott, Bruce Helander, Richard Holton, G. Mayo, Flor Ana Mayoral, Philip Ross Munro, Melanie Prapopoulos, Diego Rivera, Carlos Rodriguez, Diana Rodriguez, Gloria Sesana, Marc Sijan, Ryan Paul Simmons, Hunt Slonem, Ezra Talmatch, Vilijus Vaisvila, Gerard Valls, Andy Warhol, and Robert Wilson. Wooden sculptures in performance areas and provided by George Wells-Adirondack Wood Art.
DESIGN EXHIBITORS: Colombostile, Il Vetro Dei Dogi, lounges by PIE Studio, and cafe seating by InterFlight Studio.
WITH SPECIAL THANKS TO OUR SPONSORS & PARTNERS
Miami Art Museum – Trustees & Contemporary Artists, Creative Marketing Concepts, COLOMBOSTILE, IL VETRO DEI DOGI, Prestige Event Services / Tents, PIE Studio – Project Import Export, Marlborough Gallery, ECOMB-Environmental Coalition of Miami & the Beaches, Paul Fisher Gallery, Helander Studio, Robin Rile Fine Art -Curator Reed V. Horth, Val Torres-Curator / Art Consultant, ArtServe, ArtsCalendar.com, The Arts in Action Company, "Pop goes the Easel"- the movie (scenes to be filmed at SATELLITE), Soyka Restaurant, Give Me A Beat Productions, South Florida Artists Association, Kennedy Gallery, Il Mulino, Maeva "the Artist" Renaud, Nest of Living Arts (NOLA), The Art Buzz, Simply the Best Magazine, Kariza Designs, H2Ultra Water, VeeV Acai Liqueur, ECO Depot, Alban Communications, Invent-You Consulting Corp, Sustainable Recordings-Erick Paredes, Eco-Logical Solutions, Relive Research and Development Corp, InterFlight Studio, Creative Mind Management – Michele Lifland, LCSW, Valanetti Group, Elite Airbrush Makeup – Cliff Turner, Magic Art LED Mobile Broadcasting.
MEDIA SPONSOR
AroundTown Magazine
EVENT PHOTOGRAPHER
Richard Viola of Photo Impression Gallery – Wilton Manors, FL