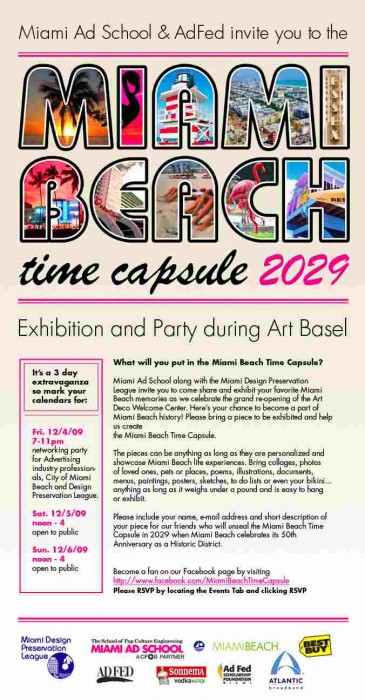 YOU'RE INVITED TO HELP CREATE MIAMI BEACH'S TIME CAPSULE
WHEN: On Friday, December 4th, 2009 from 7pm-11pm, during Art Basel
WHERE: Art Deco Welcome Center located at 10th Street and Ocean Drive on Miami Beach, Florida.
WHO: anyone who loves Miami Beach!
WHAT: All guests are asked to bring a piece to be exhibited. The pieces can be anything as long as they are personalized and showcase Miami Beach life experiences. Bring collages, photos, poems, illustrations, documents, fabric, menus, paintings, posters, sketches, to do lists ……. anything as long as it weighs under a pound and is easy to hang/exhibit.
Please include your name, email address and short description of your piece for our friends who will unseal the Miami Beach Time Capsule in 2029 when Miami Beach celebrates its 50th Anniversary as a Historic District.
FACEBOOK: Share and preserve your favorite Miami Beach memories and experiences by uploading photos and videos to Facebook's Miami Beach Time Capsule. Celebrate family, friends, community, that costumed dog, life guard stand at sunrise, or the craziness of Halloween on Lincoln Road. http://www.facebook.com/MiamiBeachTimeCapsule
Become a member of Miami Design Preservation League to support advocacy, education and programming that preserve and protect Miami Beach's history and character.