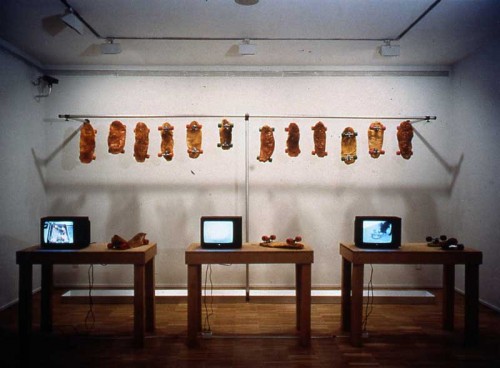 KaBe Contemporary Presents José Antonio Hernández Diez: Recent Work
First Solo Exhibition in Miami
On View December 1, 2009 – January 15, 2010
Opening Reception: Tuesday, December 1, 7-9pm
KaBe Contemporary
123 NW 23 Street, Miami, FL 33127
www.kabecontemporary.com
This winter, KaBe Contemporary will present José Antonio Hernández Diez: Recent Work, the Venezuelan artist's first solo exhibition in Miami on view from December 1, 2009 through January 15, 2010. This exhibition presents new work in progress from José Antonio Hernández Diez and will evolve as it travels to new venues. After its presentation at KaBe Contemporary this exhibition will travel to Periférico Caracas among other venues in 2010. This show, which opens to coincide with Art Basel Miami Beach (December 3-6 2009), features the artist's most recent work, a photography installation, reflecting the sentimental side of human beings. People who were touched by a personal tragedy, perhaps the loss of a loved one due to everyday crime, and seek some some sort of consolation or closure. His work explores time travel and the possibility to say one last goodbye or undo facts, such as death, thus contributing to a more humane and happy society.
José Antonio Hernández Diez began his artistic career at the end of the eighties. His early works are characterized by a strong emotional undercurrent. Among his most important works at this time were Anabel Lee (1988) and Houdini (1989). In the nineties his works reflected religious and socio-economic criticism. Vas pa'l cielo y vas llorando (You go to heaven and you go crying,1992) and In God we Trust (1990) condemn the economic and social inequalities between the United States and Latin America. At the end of the nineties his work began to speak about how certain products are consumed as social branding. La hermandad (The Brotherhood, 1994, Fundación la Caixa Collection, Barcelona) was a remarkable piece from that series. In the next decade his work began taking a much larger scale in the form of sculptural pieces – everyday objects blown out of proportion to reveal new uses and content. He also began to explore photography. He produced a series using the initials on tennis shoes to spell out the name of famous philosophers.
José Antonio Hernández Diez' childhood fascination for machines made him develop many works that created repetitive movements with no beginning or end. His first piece to employ this kind of machine was Gran Patriarca (Grand Patriarch, 1993, The Ella Fontanals-Cisneros Collection, Miami). His solo exhibition at Galeria Elba Benitez, Madrid titled Revolutions Per Minute (2006) depicted 4 installations featuring, among other elements, his shirt and jeans being grabbed by a machine making them dance to the rhythm of its mechanical dictator. The artist deals with man's weaknesses and unfulfilled desires. My Fucking Dreams featured a shirt hanging high on the wall caught by a machine trying to drag it down to the ground. Dreams gradually fade before the gentle, yet persistent machine.
José Antonio Hernández Diez' extensive work enjoys great international acclaim. His work has been presented in solo shows at Galeria Elba Benitez, Madrid (2006), at the Sala Mendoza, Carcas (2005), at the New Museum of Contemporary Art, New York (2003), among others. His group shows and biennials include, among others, Zones de Risc, Caixaforum Barcelona, Madrid, 2008; La struttura della sopravivenza (The Structure of Survival), 2003, 51 Biennale de Venezia; Ultra Baroque: Aspects of Post Latin American Art, 2001, San Francisco Museum of Modern Art; Da Adversidade Vivemos, 2001, Musée d'Art Moderne de la Ville de Paris; In Site San Diego 1997, San Diego; Museum of Contemporary Art (MOCA), Miami, 1996; Universalis, 1996, XXIII International Biennial of São Paulo; Biennial of Habana 1994; and Cocido y crudo, 1994, Museo Nacional Centro de Arte Reina Sofía, Madrid.
About KaBe Contemporary
KaBe Contemporary inaugurates its gallery space this December to coincide with Art Basel Miami Beach 2009. This gallery was established to promote international emerging and mid-career artists focusing on cutting-edge work using various media such as video, photography, installations, drawings and painting.