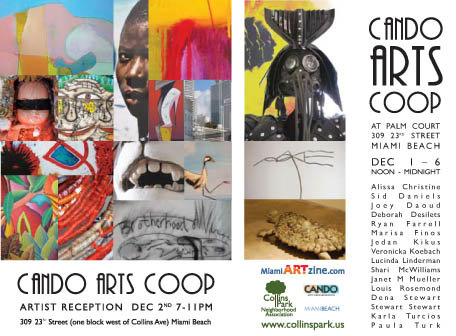 We are proud to announce that several ASJ friends and board members
will be showcasing their talent during Art Basel week.
CANDO Arts Co-Op Palm Court exhibit – during Art Basel
December 1-6. Gallery Reception: Wednesday, December 2, 7-11 p.m
309 23rd Street, Miami Beach
Included in this exhibit is the sculpture of Paula Turk, Arts at St. Johns Board Member. Award-winning artist Paula Turk expresses herself in both metal sculpture and photography. She exhibits extensively in South Florida and this past summer co-curated the highly successful "Divine Debris and Glorious Trash Art Show" in conjunction with Arts at St. Johns.
Artists in the CANDO show: Alissa Christine, Sid Daniels, Deborah Desilets, Ryan Farrell, Marissa Finos, Jedan Kikus, Veronicka Koebach, Louis Rosemond, Shari McWilliams, Janet M. Mueller, Lucinda Linderman, Joey Daoud, Dena Stewart, Stewart Stewart, Karla Turcios, and Paula Turk.
Paula's work is also currently on exhibit through Jan. 8 at ArtServe, 1350 E. Sunrise Blvd., Ft. Lauderdale. Gallery Reception: Thurs., Dec. 3, 6-8 p.m.