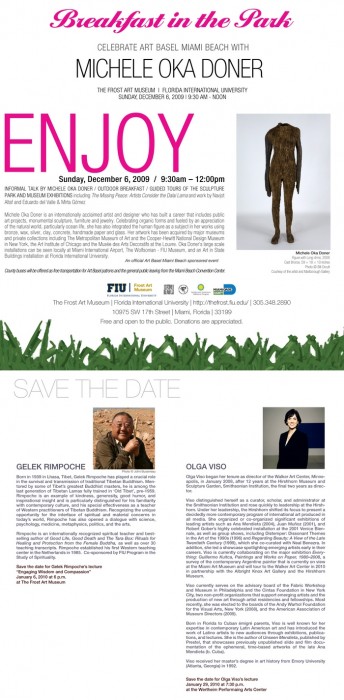 Breakfast In The Park
Celebrate Art Basel with Michele Oka Doner at Breakfast in the Park
An official Art Basel Miami Beach event at The Patricia & Phillip Frost Art Museum
The Patricia & Phillip Frost Art Museum's 7th annual Art Basel Miami Beach event, Breakfast in the Park, features internationally renowned artist Michele Oka Doner on Sunday, December 6 from 9:30 am to noon. Breakfast in the Park will include an informal talk by Michele Oka Doner, outdoor breakfast, and guided tours of The Sculpture Park at FIU and The Frost's exhibitions including The Missing Peace: Artists Consider the Dalai Lama and work by Navjot Altaf and Eduardo del Valle & Mirta Gómez. This event is free and open to the public.
Michele Oka Doner, an internationally acclaimed artist and designer, has built a career that includes public art projects, monumental sculpture, furniture and jewelry. Celebrating organic forms and fueled by an appreciation of the natural world, particularly ocean life, she has also integrated the human figure as a subject in her works using bronze, wax, silver, clay, concrete, handmade paper and glass. Her artwork has been acquired by major museums and private collections including The Metropolitan Museum of Art and the Cooper-Hewitt National Design Museum in New York, the Art Institute of Chicago and the Musée des Arts Decoratifs at the Louvre. Oka Doner's large scale installations can be seen locally at Miami International Airport, The Wolfsonian – FIU Museum, and an Art in State Buildings installation at Florida International University.
Breakfast in the Park draws hundreds of visitors each year, many of whom travel by bus from the Miami Beach Convention Center. County buses will be offered as free transportation again this year for Art Basel patrons and the general public. Buses will leave from the convention center for The Frost Art Museum at 9 a.m. and 10 a.m. and will return to the convention center following the event.
What: Breakfast in the Park with Michele Oka Doner
Where:The Patricia & Phillip Frost Art Museum
10975 SW 17 Street
Miami, FL 33199
When: Sunday, December 6, 2009
9:30 a.m. to 12 p.m.
Free and open to the public.
More information at http://thefrost.fiu.edu or 305.348.2890
Cost: Free and open to the public
About Art Basel Miami Beach
From December 3 through 6, 2009, Miami Beach, Florida, will be home to the 8th edition of Art Basel Miami Beach, the international art show. More than 250 leading galleries from North America, Europe, Latin America, Asia and Africa will take part. Chosen by the renowned gallerists of Art Basel Miami Beach Selection Committee, the galleries will show works by more than 2,000 artists of the 20th and 21st centuries. Special sectors are devoted to very recent artworks, curated exhibits, performance, and art in public spaces. The public program is available online at (www.artbaselmiamibeach.com/go/id/djf/).
About The Patricia & Phillip Frost Art Museum at Florida International University
The Frost Art Museum opened its current 46,000-square-foot state of the art building in November, 2008. Over 25,000 people have visited The Museum in its new building since its opening in November, 2008. Admission to The Museum is always free. The Frost is an AAM accredited museum and Smithsonian affiliate and is located at 10975 SW 17thSt across from the Blue parking garage and adjacent to the Wertheim Performing Arts Center on the Modesto A. Maidique Campus. Hours of operation are Tuesday through Saturday 10 a.m. – 5 p.m. and Sunday noon-5 p.m. Closed on Mondays and most legal holidays. For more information, please visit thefrost.fiu.edu or call 305-348-2890.