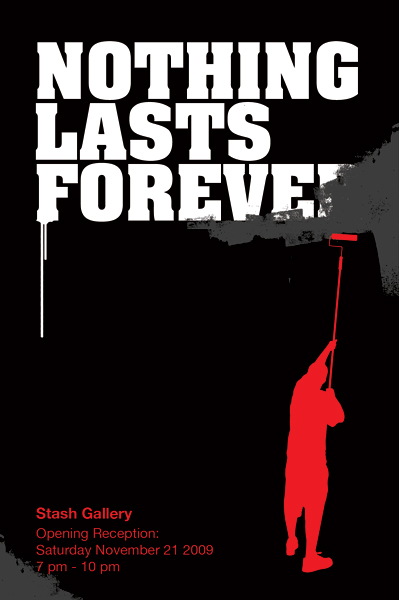 Nothing Lasts Forever
NOTHING LASTS FOREVER: STASH GALLERY FEATURES THE ELUSIVE BUT DYANAMIC ART OF MIAMI'S MOST TALENTED STREET ARTISTS
The show will be an homage to artists with long-standing street cred
You're driving down the street and you see it. You're walking on South Beach or in Wynwood and you see it; the work of an artist who has gone beyond graffiti, and off the canvas, to create a work of art with the tools he immediately has available to him: a wall; an electric pole; a doorway or even the sidewalk itself. You don't know their names but see their work over and over again and know a creative talent is lurking in the shadows waiting to make his mark in the art world.
These very artists, names you may not recognize yet: Atomik, Quake, Negz One, Cebzke, and Abstract, will bring their art off the street and indoors for the first time at Stash Gallery in Miami's Design District from November 21-30, 2009 for their first gallery show in the city. Evo Love, local artist and co-founder of Stash Gallery, says it was important for the gallery to showcase these artists because, "We wanted to open up everyone's minds about street art, that street art is just one aspect of the talent of these artists. We wanted to give them an opportunity to show others their deepest and darkest secrets. They are not vandals or delinquents but passionate people who express themselves in the ways they know best."
"This collaborative show will exhibit new works by some of Miami's most prolific and inspiring street artists," notes Romain Gateau, co-founder, Stash Gallery. "The theme, the reality of impermanence, is a constant struggle for most of these artists who leave their mark outside galleries and mainstream media outlets." Gateau and Love say Nothing Lasts Forever was produced to remind art lovers about what motivates these artists, even after the majority of their work has been erased and forgotten. Why they continue to do what they love.
Some of these artists have gained well-earned reputations over the past few years and have been tapped to put their creative stamp on commercial and artistic ventures. Abstrk, for instance, currently produces custom apparel, incredible canvases and character sculptures. He has successfully crossed over from painting Miami's walls and transit to working for clients like KRS One, Rakim, Fat Joe, Sean Kingston, Black Dada and Gibson Guitars among many others.
Stash Gallery
162 NE 50 Terrace
Miami, FL 33137