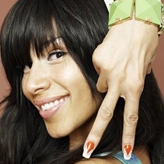 Giant Step Presents SVEDKA Vodka Sessions #5: A Special Performance by Kid Sister
Friday, December 4 2009
Delano, A Morgans Hotel
1685 Collins Ave
Miami Beach, FL 33139
We are very excited to present the fifth installment of the SVEDKA Vodka Sessions series in Miami Beach, FL, during Art Basel, with Kid Sister performing poolside at Delano, a Morgans Hotel on December 4.
Click here to RSVP. RSVP limited to one person per email.
SVEDKA Vodka Sessions, a concert series brought to you by Giant Step and SVEDKA, brings you the very best bands and emerging artists. The series has already featured Wale with DJ Mark Ronson at Hudson Hotel in New York, Peter Bjorn And John and DJ Jason Bentley at Mondrian Hotel in West Hollywood, Diane Birch with DJ Anané Vega at Hudson Hotel, as well as Nneka with DJ Vikter Duplaix at SkyBar Mondrian Hotel in West Hollywood.
Kid Sister was born Melisa Young on July 3, 1980 in Markham, Illinois. She had a hard life growing up in South suburban Chicago due predominantly to her family's financial situation and has channeled that energy into her art from a young age. Holding down various jobs (from Bath and Body Works, to working at a baby store "slanging bibs and teething rings") she has acquired a degree in film from Columbia College Chicago. She started rapping in 2005, becoming an MC at monthly dance parties hosted by the DJ duo Flosstradamus (DJ J2K of the duo being her brother and current DJ), which was featured in MTV's My Block that same year.
She made URB's "The Next 1000" cover in April 2007, and was signed to Kanye West's DJ A-Trak's label Fool's Gold. Her first single featuring Kanye West "Pro Nails" was later released to much critical acclaim. Her debut album Ultra-Violet is scheduled for release Nov 17, 2009 with Downtown Records featuring Artists like Kanye West, Estelle, and Cee-Lo. As well as Producers like Rusko, Brian Kennedy, and Steve Angello and Sebastian Ingrosso of the DJ group Swedish House Mafia.