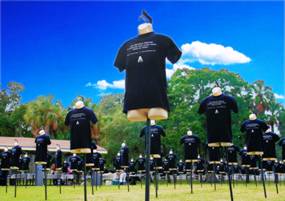 150 LIMBLESS MANNEQUINS ON DISPLAY
TO PORTRAY POWERLESSNESS OF PATIENTS
WITH LOU GEHRIG'S DISEASE
WHO/WHAT: The ALS Association Florida Chapter's Piece by Piece display of 150 limbless mannequins, each bearing the name of an ALS victim, represents a life that has been affected by the devastating disease, also known as Lou Gehrig's Disease. By using graphic imagery to act as a metaphor for the destructive effects of ALS, the display is meant to grab the public's attention and create awareness. The gripping message: "Lou Gehrig's Disease is stealing our loved ones piece by piece."
Since January, the Piece by Piece Tribute Display has traveled to more than 20 locations around the state of Florida, and is now making its debut in Miami. Local volunteers will set up and take down the mannequins at each exhibit, hoping their efforts will help raise awareness of the deadly disease. Steve Franks, 50, who has been living with the disease for six years, delivers the mannequins to each stop throughout Florida.*
Amyotrophic Lateral Sclerosis (ALS), or Lou Gehrig's Disease, is a progressive neurodegenerative disease that causes its victims to become completely paralyzed, gradually stealing their ability to move any of their limbs. The disease affects motor neurons in the brain and spinal cord. When the motor neurons die, a patient's muscles waste away. The patient is robbed of the ability to walk, speak, eat, and eventually breathe. Upon diagnosis, patients are given only two to five years to live. There is no cure for ALS.
Visit www.StealingPieces.org for more information about the campaign and to see photos of the Piece by Piece Tribute Display.
WHEN/WHERE: Friday, Nov. 13 – 15, during Mall hours
Miami International Mall
1455 NW 107th Avenue, Miami
Friday, Nov. 20, 3 p.m. – 11 p.m.
Miami Beach Community Church
1620 Drexel Avenue, Miami Beach
Thank you for using Soul Of Miami!