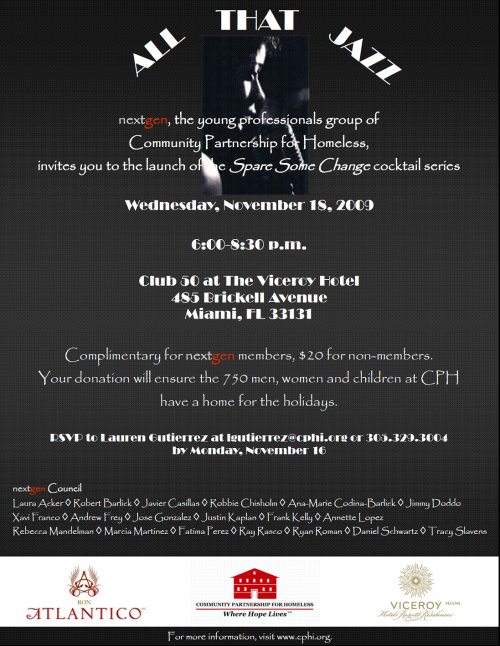 Wednesday, November 18, 2009
6:00-8:30 p.m.
Club 50 at The Viceroy Hotel
485 Brickell Avenue
Miami, FL 33131
nextgen, the young professionals group of Community Partnership for Homeless, invites you to the launch of the Spare Some Change cocktail series
Complimentary for nextgen members, $20 for non-members.
Your donation will ensure the 750 men, women and children at CPH have a home for the holidays.
nextgen Council
Laura Acker, Robert Barlick, Javier Casillas, Robbie Chisholm, Ana-Marie Codina-Barlick, Jimmy Doddo, Xavi Franco, Andrew Frey, Jose Gonzalez, Justin Kaplan, Frank Kelly, Annette Lopez, Rebecca Mandelman, Marcia Martinez, Fatima Perez, Ray Rasco, Ryan Roman, Daniel Schwartz, Tracy Slavens
RSVP to Lauren Gutierrez at lgutierrez@cphi.org or 305.329.3004
by Monday, November 16
For more information, visit www.cphi.org.