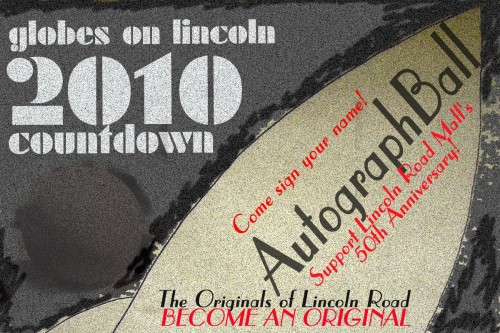 LINCOLN ROAD PEDESTRIAN MALL IS TURNING 50!
As a Pilot run for the GLOBES ON LINCOLN, The Students from MAC school have been working hard on getting their themed "Vacation", "FREEDOM OF SPEECH", "ABRAHAM LINCOLN" & "Environment" globes ready for all to view on November 12th. The art will be on display all day to the public in the "Living Room" at the Ritz Carlton, 1 Lincoln Road, Miami Beach. LIGHT Refreshments & Valet parking will be available. Please join us in supporting the GLOBES ON LINCOLN ART PILOT.
Lincoln Road is the second pedestrian mall in the country! And the Largest! It was designed in the Post-War era; by the MId-century MOdern (MIMO) architect Morris Lapidus. This Green, Lush tropical WONDERLAND is in the heart of Miami Beach, where "A car never bought anything!" Lapidus closed Carl Fisher's Lincoln Road into a pedestrian mall and it opened on December 4th 1960. The GLOBES ON LINCOLN ART WRAP allows her communities to revisit their HISTORICAL ROOTS, The Beaches and Lincoln Road.
If our special event permit is approved (YES!!!We still need your support with City Commissioners) The GLOBES ON LINCOLN committee will "Wrap" the 43 Globes with 43 themes in the history of Miami Beach & Lincoln Road. The history will weave together the stories of Miami Beach's histories spanning 100 years. The wrapped decorated GLOBES ON LINCOLN will occur on the 5 sidewalks at Drexel, Pennsylvania, Meridian, Jefferson and Lenox. The GLOBES ON LINCOLN will feature art from Community children and artists as well as invitation to internationally exhibited artists and will be held on the streets. This will be the first GLOBES ON LINCOLN ART WRAP.
Located on the pedestrian mall crossing Lincoln road the Globes are accessible 24/7 for viewing. There will be printed materials to tell the 43 themed stories. Sponsors will be asked to assist as art juror's and / or, based on their contribution, be given wrist bands and printed materials for their customers to direct people to their sponsored GLOBE ON LINCOLN. These Jury initiated special GLOBES ON LINCOLN ART WRAPS will bring fresh energy to the pedestrian walk on Lincoln road and will showcase the art of DCPS children on the globes. As well gallery exhibits, Print material and local media TV, Radio, print and internet coverage will ensure exposure of the art and the artists as the GLOBES ON LINCOLN ART WRAP.
I DO MY PART, INC as a Non-Profit organization (pending application approvals) Initiated Globes on Lincoln Art Wrap 2010 as an educational community project.
For More Information Contact: Deborah Desilets, Lincolnroad50@gmail.com