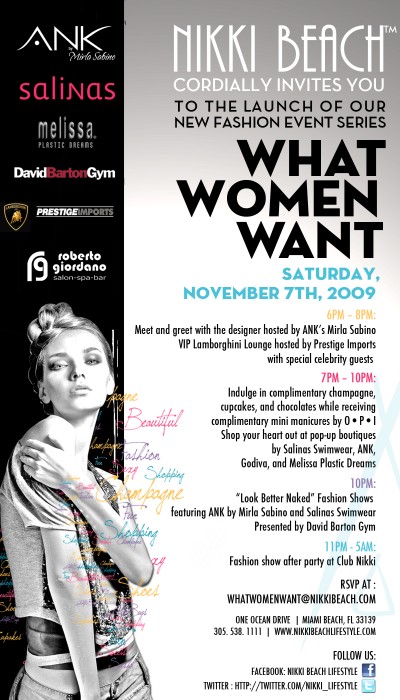 Nikki Beach Launches New Monthly Fashion Event Series
"What Women Want"
Nikki Beach hosts "Look Better Naked" fashion shows featuring ANK by Mirla Sabino and Salinas Swimwear presented by David Barton Gym
MIAMI, FL (November 3, 2009) – Global luxury lifestyle entertainment group Nikki Beach announces the launch of its signature "What Women Want" fashion event series, bringing the runway to Miami Beach.
"What Women Want" is a unique concept spread out over a series of fashion events on the first Saturday of each month, kicking off November 7th, 2009.
In what will be the most anticipated Saturday night out in Miami, every month Nikki Beach will pick and promote a favorite brand by creating a one-of-a-kind fashion event featuring the new collection along with a pop-up boutique on-site.
Targeting the ultimate fashionistas, trendsetters, and influential elite, all part of Nikki Beach's existing clientele, this concept will draw the best crowd in town. In true Nikki Beach style, the event will be centered around champagne, sweets, and shopping, indulging every woman's guiltiest pleasures.
"What Women Want" will kick off at 6pm with a meet and greet hosted by ANK's Mirla Sabino and a Lamborghini VIP lounge hosted by Prestige Imports with surprise celebrity guests.
From 7pm to 10pm guests can indulge in complimentary champagne, cupcakes, fruit sushi and chocolates while receiving mini manicures provided by O.P.I. The event will also feature pop-up boutiques by Salinas Swimwear, ANK by Mirla Sabino, Godiva, and Melissa Plastic Dreams.
At 10pm David Barton Gym will present "Look Better Naked" runway shows featuring ANK by Mirla Sabino and Salinas Swimwear followed by a fashion show after party at Club Nikki at 11pm.
To RSVP please e-mail whatwomenwant@nikkibeach.com.
For more information on What Women Want visit www.nikkibeachlifestyle.com or follow us on Twitter: Nikki_Lifestyle and Facebook: Nikki Beach Lifestyle
About Nikki Beach (www.nikkibeach.com)
In 1998, Nikki Beach introduced the world to the ultimate beach club concept bringing music, entertainment, fashion, dining and art, together. Over a decade later, Nikki Beach continues to make its mark in the world's hottest addresses and trendsetting locales, recently claiming the #1 spot in Travel Channel's World's Sexiest Beach Bars. The Nikki Beach concept has transcended its international venues and grown into a global lifestyle company: a clothing line, Endless Summers by Nikki Beach—which was launched at the 2009 Cannes Film Festival; Marketing and Public Relations Divisions; Global Sponsorships and Special Events; Nikki Beach Music; a VIP Membership card and concierge program; Nikki Style Magazine; and a Hotel and Resorts Division with several new locations to open starting in 2010.
The Nikki Beach lifestyle can now be experienced in nine different countries in thirteen cities: Miami Beach, Florida, USA; St.Tropez, France; Cannes Film Festival, France; St. Barth, French West Indies; Marbella, Spain; Cabo San Lucas, Mexico; New York City, New York, USA; Marrakech, Morocco; Koh Samui, Thailand; Panama City, Panama; Toronto Film Festival, Canada; Vilamoura, Portugal; Portimao, Portugal.
For more information on Nikki Beach, please visit www.nikkibeach.com.