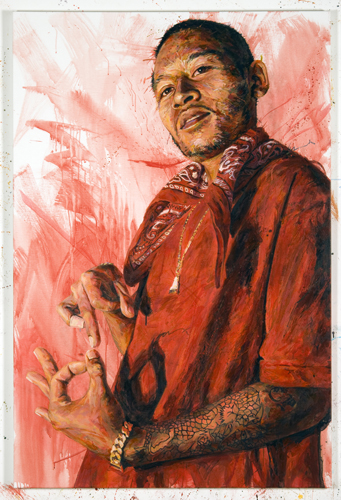 FOR IMMEDIATE RELEASE
Michael Vasquez
How the Land Lies
November 3rd – 28th, 2009
Opening Reception:Saturday November 14th, 2009
7:00 – 9:00 PM
Fredric Snitzer Gallery
2247 NW 1st PL
Miami, FL 33127
305.448.8976
info@snitzer.com
The New Red Carpet (diptych), 2009
acrylic on canvas
44″ x 28″ each
Fredric Snitzer Gallery is proud to present Michael Vasquez in his second solo exhibition titled How the Land Lies. In his first solo exhibition, Family Jewels, Vasquez presented a personal portrait of himself in a single parent upbringing, complemented by the adoption of friends and social personalities that seemed to replace a missing father figure.
How the Land Lies illustrates a geographical portrait of suburban locations and symbolic traits carried by members of a neighborhood gang. An earned and received red bandana in The Acceptance is weighted with the ideology of membership and loyalty. Michael Vasquez reflects on what it means to be connected to an organization that survives on taking pride in being territorial, controlling and intimidating. How to Stand for Something and The Fence Line accentuate personal and territorial delimitations with a signature stance and graffiti marks. How the Land Lies describes the influences of locality in a social setting and the inherited recognition of a belief system.
Michael Vasquez was born in 1983 in St. Petersburg FL. His work has been exhibited at The Museum of Contemporary Art; North Miami, FL, Mobile Museum of Ar; Mobile, AL, Kemper Museum of Contemporary Art; Kansas City, MO and Locust Projects, Miami, FL. Vasquez currently lives and works in Miami, FL
For additional information please contact the Fredric Snitzer Gallery at info@snitzer.com
Thank you for using Soul Of Miami!