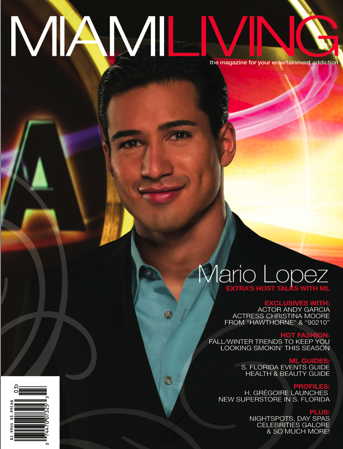 HGreg is proud to present the Miami Living Magazine 6th Year Anniversary Party at Segafredo Brickell. The anniversary party will be held at Miami's hottest bar and lounge, Segafredo Brickell, on Friday, November 6, 2009 and will feature an open bar provided by Orzel Vodka from 9 – 12AM. You can also enter for a chance to win prizes worth over $4,000, including a Gevril designer watch, Florida Panthers tickets, and restaurant gift certificates.
Segafredo Brickell is located at 1421 South Miami Ave., Miami, FL 33131
RSVP to MiamiLivingMagazine@gmail.com or by phone at (781) 547-4251.
Miami Living Magazine has become the fastest growing magazine in South Florida consistently reaching the affluent buyer, looking for the latest entertainment and cultural happenings in Miami. View issues online at: http://www.miamilivingmagazine.com
ABOUT MIAMI LIVING – Miami Living is a magazine that connects subscribers to the best entertainment South Florida has to offer. It includes features, interviews, music, events, fashion and the largest entertainment guide for South Florida. As the only entertainment resource guide, Miami Living delivers over 200 pages of articles and over 850 entertainment resource listings in every issue. Miami Living is widely recognized for its insightful and exclusive content.