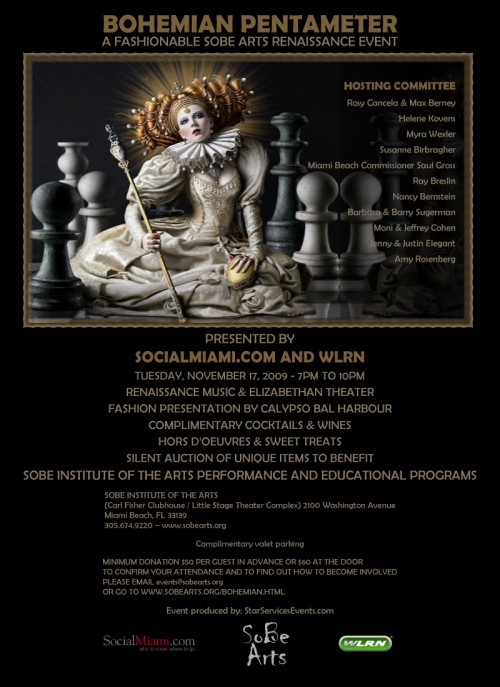 Bohemian Pentameter at Sobe Institute of Arts
With this early evening event, the professional ensembles & staff of SoBe Arts will take arts and fashion lovers back to the days of Elizabethan of England as the sounds of violins, flutes and lutes fill the air in the subtle, secluded and charming grounds of the SoBe Institute of the Arts. While guests enjoy the culturally enriched ambiance of classically-trained musicians, young actors dressed in renaissance garb will delight attendees with witty repartee.
As the show and festivities go on, guests will have the opportunity to learn about the hidden gem that is SoBe Arts. They can become involved in the school's initiatives, which include arts education for Miami's youth, a goal designed to build the cultural base of our community from the ground up.
And what would an event in Miami be without a little fashion? Added to the mix will be the Bohemian looks from Calypso Bal Harbour; models will roam the grounds dressed in the lux comfort of Calypso style, as the guests enjoy hors d'oeuvres, cocktails and wines throughout the evening.
Unique art related items and luxury donated gifts will be on display to be given to the highest bidder in a silent auction to benefit the SoBe Arts Institute.
Link to Evite.