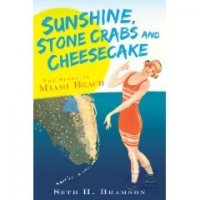 Nov. 12,Thursday, 7 pm
SETH BRAMSON – Book Signing and Talk
"SUNSHINE, STONE CRABS AND CHEESECAKE:
THE STORY OF MIAMI BEACH"
One of his many books on the history of South Florida communities
Miami Beach is unrivaled in the annals of American resort history. This story is recounted in a new book by Seth H. Bramson, renowned local historian & resident of Miami for over six decades.
From the 1870 arrival of the Lums on an inhospitable mangrove sandbar to a modern-day hospitality mecca — join us on this beachfront view of the people & places, booms and busts, reinventions & rebirths of one of the greatest resort cities on earth.
Featuring nearly two hundred stunning images drawn mostly from previously unpublished private collections, Seth's book is truly a one-of-a-kind trip to Miami Beach.
The talk is free and open to the public. Books will be available for purchase and signing by the author.
4760 Pine Tree Drive
Miami Beach, Florida 33140