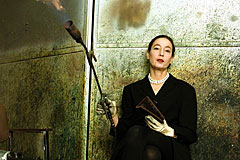 Reception and artist talk with internationally recognized artist Michele Oka Doner
Wed., Oct. 14, 6-9 pm
A reception and artist talk with internationally known artist Michele Oka Doner will take place at the Center. She will discuss her art as well as mingle with attendees during the reception.
Oka Doner uses nature at its most basic level in the creation of her art. Her presentation will address on her public art projects, sculpture, jewelry, furniture, and design objects. She will also discuss her newly completed public art project, her largest bronze casted sculptural element to date, permanently installed at Port Everglades.
To learn more about Michele Oka Doner, check out her website.
Listen to an interview – Curator of Exhibitions Jane Hart discusses Oka Donner with South Florida Arts Beat host Ed Bell.
Art and Culture Center of Hollywood
1650 Harrison St.
Hollywood, FL 33020
954. 921. 3274
ArtAndCultureCenter.org
Thank you for using Soul Of Miami!