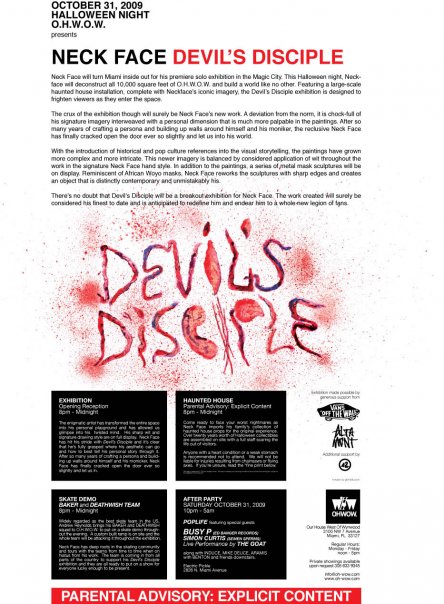 O.H.W.O.W. presents Neck Face | Devil's Disciple
with Exibitions and Haunted House by Neck Face | Skate Demo by Baker and the Death Wish Team | After Party at POPLIFE with Busy P and special guests
Saturday | October 31st, 2009 | HALLOWEEN NIGHT
3100 NW 7th Ave
Miami, FL 33127
oh-wow.com
O.H.W.O.W. presents NECK FACE: DEVIL'S DISCIPLE
Neckface will turn Miami inside out for his premiere solo exhibition in the Magic City. This Halloween night, Neckface will deconstruct all 10,000 square feet of O.H.W.O.W. and build a world like no other. Featuring a large-scale haunted house installation, complete with Neckface's iconic imagery, the Devil's Disciple exhibition is designed to frighten viewers as they enter the space.
The crux of the exhibition though will surely be Neckface's new work. A deviation from the norm, it is chock-full of his signature imagery interweaved with a personal dimension that is much more palpable in the paintings. After so many years of crafting a persona and building up walls around himself and his moniker, the reclusive Neckface has finally cracked open the door ever so slightly and let us into his world.
With the introduction of historical and pop culture references into the visual storytelling, the paintings have grown more complex and more intricate. This newer imagery is balanced by considered application of wit throughout the work in the signature Neckface hand style. In addition to the paintings, a series of metal mask sculptures will be on display. Reminiscent of African Woyo masks, Neckface reworks the sculptures with sharp edges and creates an object that is distinctly contemporary and unmistakably his.
There's no doubt that Devil's Disciple will be a breakout exhibition for Neckface. The work created will surely be considered his finest to date and is anticipated to redefine him and endear him to a whole new legion of fans.
EXIBITION – Opening Reception
8 PM – Midnight
The enigmatic artist has transformed the entire space into his personal playground and has allowed us a glimpse into his twisted mind. His sharp wit and signature drawing style are on full display. Neck Face has hit his stride with Devil's Disciple and it's clear that he's fully grasped where his aesthetic can go and how to best tell his personal story through it. After so many years of crafting a persona and building up walls around himself and his monicker. Neck Face has finally cracked open the door ever so slightly and let us in.
HAUNTED HOUSE – Parental Advisory: Explicit Content
8 PM – Midnight
Come ready to face your worst nightmares as Neck Face imports his family's collection of haunted house props for the original experience. Over twenty years worth of Halloween collectibles are assembled on site with a full staff scaring the life out of visitors.
Anyone with a heart condition or a weak stomach is recommended not to attend. We will not be liable from injuries resulting from chainsaws or flying axes.
SKATE DEMO – Baker and Deathwish Team
8 PM – Midnight
Widely regarded as the best skate team in the US, Andrew Reynolds brings his BAKER and DEATHWISH squad to O.H.W.O.W. to put on a skate demo throughout the evening. A custom built ramp is on site and the whole team will be attacking it throughout the exhibition.
Neck Face has deep roots in the skating community and tours with the teams from time to time when on hiatus from his work. The team is coming in from all parts of the country to support his Devil's Deciple exhibition and they are all ready to put on a show from everyone lucky enough to be present.
AFTER PARTY – POPLIFE featuring Special Guests
10 PM – 5 AM
POPLIFE featuring special guests
BUSY P [Ed Banger Records]
SIMON CURTIS [Semen Sperms]
Live performance by THE GOAT
along with INDUCE, MIKE DEUCE, ARAMIS with BENTON and friends downstairs.
Electric Pickle, 2826 N. Miami Ave | Miami, FL