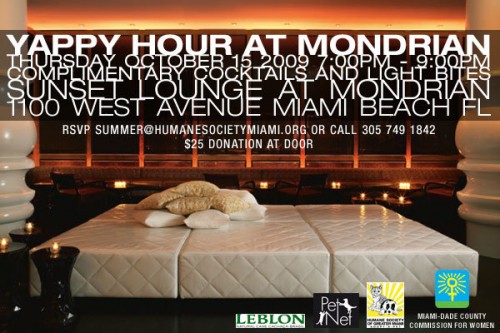 Thursday, October 15, 2009, 7:00pm – 9:00pm
Sunset Lounge at Mondrian
1100 West Avenue, Miami Beach, FL
$25 at the door (cocktails and light bites included). Please RSVP at summer@humanesocietymiami.org or call 305-749-1842.
Commission for Women
The Miami-Dade County Commission for Women, formerly the Commission on the Status of Women, was founded by feminist leader Roxcy Bolton and created by the Board of County Commissioners in 1971.
The Commission for Women is part of the Office of Community Relations located in the Office of the County Manager. Its 26 members are appointed by the Board of County Commissioners to serve in an advisory capacity to them, to the community and to all agencies and persons in Miami-Dade County "with respect to all matters pertaining to the status of women."
The membership of the Commission for Women reflects the diverse cultures and ethnic backgrounds represented in Miami-Dade County so that the concerns of all women are addressed by the Commission for Women. The Commission for Women monitors, among other things, the condition of women as related to discrimination, employment, education, and attitudes toward women in the community.
In addition to being an advisory board and an advocate for women in the community, our Commission office also serves as a source of referrals and information for women who call with different problems and issues.
PetNet
PetNet is a volunteer group for young professionals who want to "party with a purpose" to help homeless pets. PetNet meets each month at different Miami hotspots for "yappy hours," mixers and themed social events to benefit the Humane Society of Greater Miami Adopt-A-Pet.
PetNet's goal is to create awareness about responsible pet ownership, raise funds, educate others about compassion and caring for animals and bring together other animal lovers in a fun and relaxed social setting.