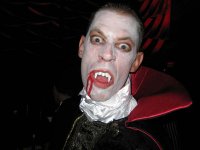 Eurocircle Miami Halloween Party at Royal Bavarian Schnitzelhaus
Royal Bavarian Schnitzelhaus, 1085 NE 79th Street Causeway, Miami, FL 33138
Saturday, October 31, 2009 at 9:00pm
This is the perfect time and occasion to meet others while making a lasting impression as a Cop, Ballerina, Astronaut, Vampire, Thief, Politician, Cucumber, etc… It's your night, so get ready to enjoy yourselves unabashedly, after all, no one but you will know the person behind the mask, the makeup, or wig.
Starting at 9pm those of us around will start gathering for a chat, some mingling, a drink, or food, or a laugh at everyone's costumes before the official kickoff of our spooky, hot, sexy Halloween Party at 10pm till the wee hours.
Do keep in mind that this party is not for children except for your inner child!
So do whatever it is you do on this day, and when you are ready, join us, our friends from Europa @ America and German meet-up groups
– the Best Costume Contest with prizes
– a live DJ
– any drink for only $5
– food specials
– and no cover charge
-free parking
Your hosts: Gabriele, Andrea and Gian
Facebook
Thank you for using Soul Of Miami!