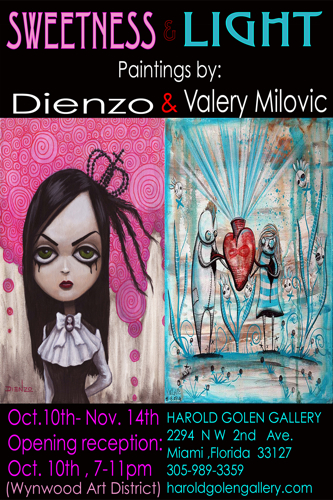 SWEETNESS & LIGHT
Paintings by: DIENZO & VALERY MILOVIC
October 10th – November 7th
Opening Reception Oct. 10th, 7- 11 pm
HAROLD GOLEN GALLERY
2294 Nw 2nd Avenue
Miami, Fl 33127
305-989-3359
haroldgolengallery.com
DIENZO
Rick "Dienzo" Blanco is a Los Angeles area artist whose collection of dark little characters are meant to intrigue, entice and perhaps cause a bit of anxiety. His experience in commercial art as an award-winning designer spans over 15 years. His most recent style is greatly influenced by his work for Disney, Mattel and most recently, Cartoon Network. In creating his art, Dienzo sees the technical aspect as, "taking the world of cartoon like characters and rendering them in the traditional medium of acrylic on canvas. From a content perspective, it's drawing from the influence of pop-culture elements and experiences as a kid like watching The Munsters and The Addams Family or visiting the Haunted Mansion at Disneyland.
VALERY MILOVIC
Vallery's inspiration for her paintings come from human frailties and death (things we all have in common), also vintage celluloid, tin and plush toys, cartoons, comics, old black and white photographs and skulls. Patch work bunnies and rag dolls, usually smoking, drinking or both ,are the reoccurring characters that tell her story of loneliness and feeling like an outcast , which she identifies with greatly. Broken Toyland , inspired by the book 'The Velveteen Rabbit', (she highly recommends reading if you haven't yet), is the name of the world these endearing characters live, with patters, drips scrapes, layers and whatever else, sets the atmosphere for her charming and wonderful acrylic on canvas paintings.