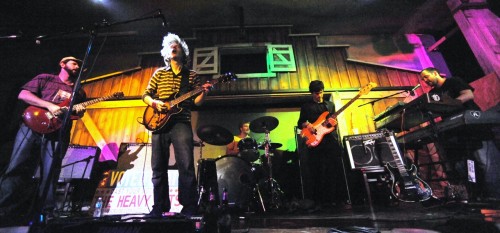 The Heavy Pets are playing at Tobacco Road on Friday, October 2 at 10 PM ($6 at the door) and it's their last South Florida show before heading out on their Winter 2009 tour, which includes several stops with The Brew and Particle. "Sleep" and "Operation of Flight" off their album Whale are staples on Sirius/XM Radio's Jam On and they have a new bassist, Justin Carney, cementing the line up.
The hardest touring jam band, The Heavy Pets, are playing Tobacco Road as the first stop on their Fall 2009 tour, which includes several dates with The Brew and Particle. "Sleep" and "Operation of Flight" off their double-disc, Whale, are staples on Sirius Radio's Jam On and their live shows are a powerful explosion of funk-reggae and rock, that is never the same experience twice.
Based in Ft. Lauderdale, Florida, The Heavy Pets have spent the last three years touring nationally behind their double-disc debut album Whale, and their newest release, the EP Slow Motion Conductor. Fronted by 5 songwriters and backed by these critically revered, and popularly celebrated recordings, The Pets have found a happy home on big stages across the country, as a supporting act (for the likes of Matisyahu, Umphreys McGee, Tea Leaf Green, Perpetual Groove and Assembly of Dust, Lettuce, Particle and Little Feat), and also performing a growing number of festival appearances ('09 Bonnaroo, '09 Moe.Down, '09 Summer Camp, '08 SXSW Festival, '06, '07 & 08 Langerado Festival, '08 Wakarusa, '07 10KLF, '08 Green Apple Fest in NYC, '08 High Sierra, '08 Gathering of the Vibes, and '08 and '09 New Orleans Backbeat Jazzfest). The Heavy Pets now boast the extra sex appeal of bassist Justin Carney.
"The Pets just might be a perfect jamband" – Dennis Cook, Jambase "My favorite new band to hit the scene" – Jonathan Schwartz, Sirius Radio Jam On 17 "…The greatest jamband to come out of Florida since, well, ever…" "They are an arena ready band without the arena. At its best the band is a living, breathing, force of nature-a whale." – Dan Sweeney, Relix Magazine "Full blown musical salvation" "Funky loose limbed rock 'n' soul" – Jonathan Zwickle, Music Editor, Broward-Palm Beach New Times "Nice big balls to release a 2-CD, 20 track behemoth as their debut" "their future is bright" – Dennis Cook, Jambase "Some sort of funk-reggae rock hybrid that's laid back and sexy" "I like" – Leslie Gray Streeter, Palm Beach Post.