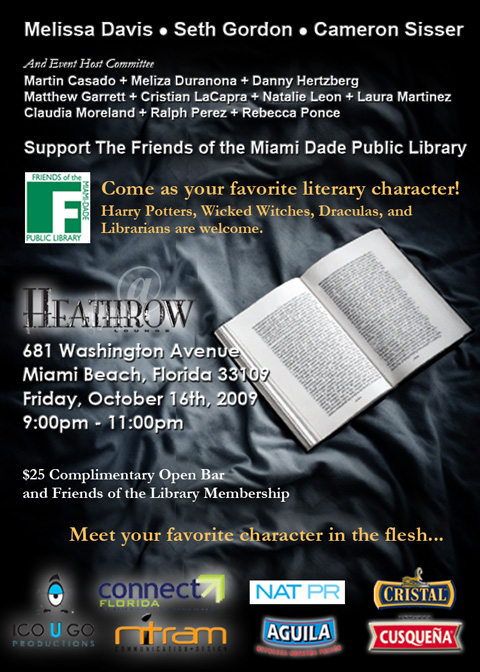 THE DEWEY DECIMAL DANCE
Friday October, 16th 20009 Leagues Under the Sea
To all Harry Potters, Wicked Witches, Draculas and Librarians…
Come as your favorite literary character and celebrate Halloween early in support of the Friends of the Miami-Dade Public Library. Book it to swanky Heathrow Lounge on South Beach to help the FOL achieve their goal of furthering library excellence through the advancement of library initiatives. This is your chance to meet your favorite character in the flesh, have free drinks and talk aloud- you can't do that at the library! For more information, please e-mail friends@mdpls.org.
Celebrate Friends of the Library month
Friends of the Miami Dade County Public Library holding fundraisers to support library programming.
It was Henry David Thoreau who said "goodness is the only investment that never fails". On Friday, October 16th the Friends of the Library invite you to celebrate Halloween early at swanky Heathrow Lounge on South Beach for a "funraiser" with a cause. Come as your favorite literary character to help the FOL achieve their goal of furthering library excellence through the advancement of library initiatives. This is your chance to meet your favorite character in the flesh, have free drinks and talk aloud- you can't do that at the library!
On Tuesday, October 20th, The Friends are pairing up with Hy Vong and the Coral Gables Branch Library to offer a tasting of an assortment of wines and the opportunity to learn about the mysteries of Vietnam, its history and its foods. Following the tasting, Chef Kathy Manning will provide a sampling of her favorite creations.
The event that you've been waiting for, the annual Friends of the Library Book Sale is scheduled to take place from Thursday December 10 through Sunday December 13 at the Main Library in Miami. Books will be sold You can make a financial donation to the Library by joining the Friends of the Miami-Dade Public Library, or by making a simple contribution; whether it is monetary or material, it is very valuable to us.
About Friends of the Miami- Dade Public Library
The Friends was incorporated in 1974 as a non-profit organization seeking to create support for the then-emerging county library system. The founders were six writers, grounded in the philosophy of community involvement, who wanted to focus their attention on the growing library system's future.
Friends funding supports activities ranging from Homework Help Centers to Black History and Hispanic Heritage Month Celebrations, to Curtains Up!, a live theatre series, and various traveling are exhibitions. During the past decade the Library System has brought to South Florida historical, archeological and art exhibits from around the world, including Peru, Bolivia, Brazil, Argentina, Colombia, and Germany. Since 2001 the Friends have partnered with the Miami-Dade Cultural Affairs Council and the Miami-Dade Sister Cities Program for the purpose of an international cultural exchange project entitled The Art of Storytelling, working with library systems worldwide.
Funds to support programming and other initiatives are raised through membership, donations and an Annual Book Sale. For more information visit http://www.friendsofmdpl.org
About the Miami-Dade Public Library System
In the more than 100 years of serving this community, the Library System has experienced tremendous change and growth and all the while has been committed to becoming "the compelling community destination by providing a five-star customer experience." In fact, our public library was the 2008 winner of the National Medal for Museum and Library Services, the nation's highest honor for museums and libraries. For more information visit http://www.mdpls.org/info/aboutus.asp