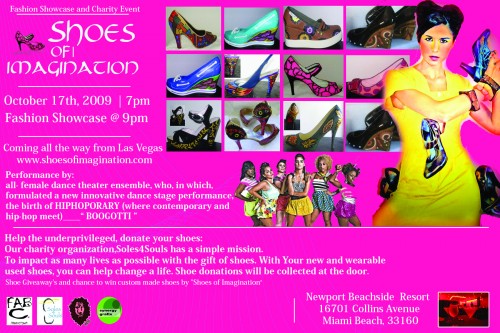 FAB C. PRODUCTIONS,LLC ANNOUNCES "Shoes of Imagination" IN PARTNERSHIP WITH SOLES4SOULS™ Inc., THE SHOE CHARITY, October 17th – Miami, Florida
The Newport Beachside Resort, Miami Beach will be the center of attention on October 17, 2009 as it hosts "Shoes of Imagination" along with "Soles for Souls", which has a simple mission: To impact as many lives as possible with the gift of shoes. Every 17 seconds, Soles4Souls Inc. gives away another pair of shoes to someone in need. The shoe charity has earned glowing endorsements from Hollywood stars and professional athletes, but the people who truly make the non-profit organization effective are those who partner with Soles4Souls in its mission of Changing the World One Pair at a Time â"¢. For a limited time, Soles4Souls and Fab C. Productions will be collecting your gently worn footwear and/or donations to ship the shoes to a person in need, whether they are victims of a natural disaster or subject to living in extreme poverty. It is estimated that Americans have 1.5 billion pairs of unused shoes lying in their closets. The charity can use each and every one of these pairs to make a tangible difference in someone's life.
This event will be celebrating Fashion Week with a cause. Coming all the way from Las Vegas, www.shoesofimagination.com will be showcasing unique custom hand painted shoes in a fashion show. Also performing in these unique shoes, are an all- female dance theater ensemble, "Boogatti", who, in which, formulated a new innovative dance stage performance style of marrying two unique well-respected dance art forms, contemporary dance theater and hip-hop dance culture.
In addition to helping Soles4Souls reach needy people around the world, guests will have the opportunity to win a pair of shoes from "Shoes of Imagination" when donating their wearable shoes, as well as a chance to get their own shoes custom painted.
People and companies interested in receiving tax receipts when donating can visit the organization's website at www.giveshoes.org, and follow the instructions.
About Soles4Soulsâ"¢
Soles4Souls is a Nashville-based charity that collects shoes from the warehouses of footwear companies and the closets of people like you. The charity distributes these shoes free of charge to people in need, regardless of race, religion, class, or any other criteria. Since 2005, Soles4Souls has given away over 5.5 million pairs of new and gently worn shoes (currently donating one pair every 9 seconds.) The shoes have been distributed to people in over 125 countries, including Kenya, Thailand, Nepal and the United States. Soles4Souls has been featured in Runner's World, Ladies' Home Journal, National Geographic's Green Guide and The New York Times. It has appeared on CBS, ABC, NBC, FOX, BBC, CNN and thousands of regional news outlets across North America. Soles4Souls is a 501(c)(3) recognized by the IRS and donating parties are eligible for tax advantages. Anyone can join our cause, and we need your help. Visit www.giveshoes.org for more information.
For more information about "Shoes of Imagination" Charity Event, please contact:
LOCAL CONTACT
Fabienne Claude- Event Coordinator, Fab C. Productions, 786-487-0049
info@fabcproductions.com
Chris Carmichael, Soles4Souls, 615-391-5723 ext 143 chrisc@giveshoes.org
Kim Dettwiller, Soles4Souls, 615-321-4073 kimd@giveshoes.org