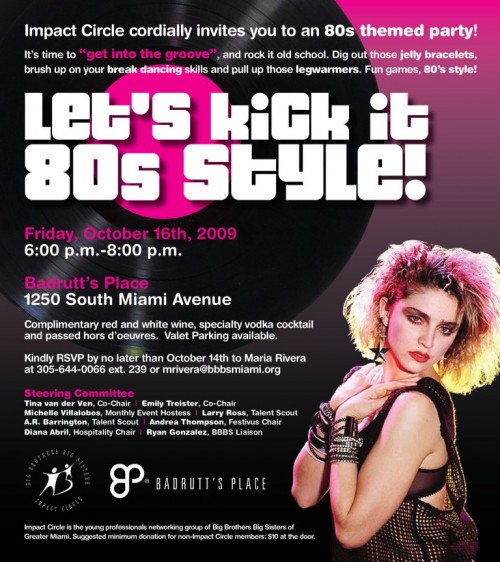 Kick It 80s Style Impact Circle Event Big Brothers Big Sisters of Greater Miami at Badrutt's Place
Dear Friends,
Impact Circle, the Fun, Fabulous, & Philanthropic group of Big Brothers Big Sisters, is kicking off the fall season by opening up there first event to our friends to meet some of our members and learn how 100% of their membership dollars are making a difference to help more of our "Littles" get matched. Our Impact Circle committee plans exclusive events and gets access to VIP events around town. They also help plan the Annual Beach Bash, and the membership allows for individuals to network with some of Miami's best movers and shakers. Hope to see you there and remember to RSVP to mrivera@bbbsmiami.org or call (305) 644-0066 ext.239.
Big Brothers Big Sisters is a donor and volunteer supported organization that transforms the lives of at-risk children through supportive adult mentor relationships. For further information, visit www.wementor.org.