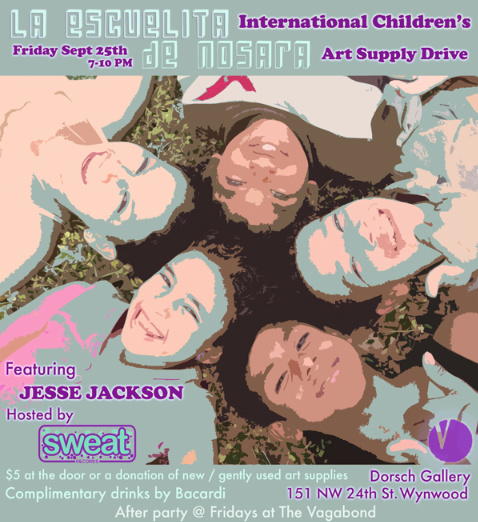 Friday night from 7-10pm at the awesome Dorsch Gallery in Wynwood, we're having an art supply drive to collect new and/or gently used supplies for the children of Escuelita de Nosara in Costa Rica. Clean out your closet, your studio, your workspace and de-stash your stash! Think paper, pencils, markers, glitter, fabric, findings, brushes – be creative! Gift certificates to local art supply stores like Pearl, ID Art and Utrecht are welcome as well.
It's a non-profit organization so all donations are tax-deductible. Check Esculita de Nosara's website for more info about what they do and cute pics of the kids!
The evening's entertainment will be provided by none other than Jesse Jackson, with complimentary cocktails provided by Seven Tiki Spiced Rum. There's no cover if you bring art supplies, or $5 if you don't. Click here to RSVP on Facebook!
The after-party is at Fridays at The Vagabond, where "Miami's Best Electronic Artist" Panic Bomber will be throwing down what promises to be an epic set, complete with a live horn section! Admission is free before 11pm so don't miss it.
The International Children's Art Supply Drive is 7-10pm at the Dorsch Gallery, 151 NW 24th St. in Wynwood. All ages are welcome.
Original post by Sweat Records