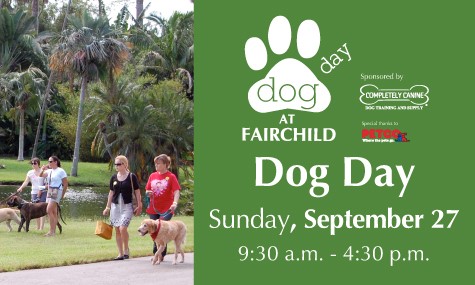 When: Sunday, September 27, 2009 from 9:30 AM to 4:30 PM
Description: Bring your dog for this special day dedicated to your four legged friend. Dogs will be allowed throughout the Garden and on the tram.
What you will find: The Miami Obedience Club's dogs will perform agility trials
Soaring Cindy a 9 year old rescue greyhound who holds the world record high jump.
The Doggie Bag Café with organic dog food and treats, doggie beer, ice cream and more.
Canine Counseling
Therapy Dogs
Coral Gables Police Canines demonstrating their work
Frisbee Demonstrations
Mobile Vet
Pet Photographer
Rules and Regulations: To protect our plant collections, please keep your dogs on the path or on grassy areas. Dogs are not permitted to walk onto planting beds.
Only one dog per member.
Dogs must be current on all vaccinations and have a current rabies tag attached to their collar.
Dogs must be leashed at all times and under the control of their handlers. Do not unleash your dog at any time.
Dog handlers are required to clean-up after their dogs. Dog handlers must use "doggie bags" and dispose of them in the designated receptacles.
Agressive dogs are not permitted in the garden. Fairchild Tropical Botanic Garden reserves the right to refuse entry to, or remove, any dog thought to be dangerous to visitors or other dogs.
Dogs in heat are prohibited from entering the garden.
Most importantly, we ask that you use good judgement on all matters concerning your dog. This will ensure an enjoyable and safe visit for you and your best pal.