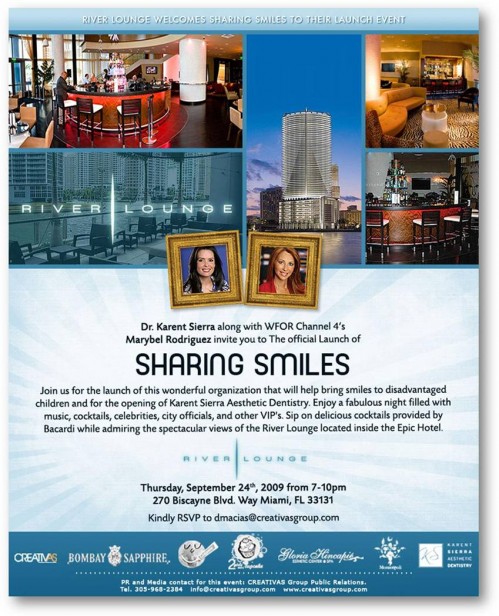 DR. KARENT SIERRA OPENS NEW OFFICE IN CORAL GABLES AND LAUNCHES SHARING SMILES FOUNDATION
"Beauty is in the eye of the beholder" states the old adage or maybe beauty is the eye of Dr. Karent Sierra. "Dentist to the stars," Dr. Sierra has recently opened her new cosmetic spa dentistry practice. Just steps away from the luxurious Merrick Park Mall she aims to redefine cosmetic dentistry as we know it. Dr. Sierra provides a spa-like atmosphere which will turn typically frightful dental experiences into soothing and relaxing visits. She firmly believes that creating "perfect" smiles for her patients changes their lives. Dr. Sierra has now partnered up with WFOR 4's Marybel Rodriguez to create Sharing Smiles, a non for profit that will enable under privileged children to attain those same perfect smiles that Dr. Sierra creates for her celebrity clients.
The launch event for Sharing Smiles will kick off at
River Lounge located at 270 Biscayne Blvd Way, inside the Epic Hotel
Thursday, September 24th
7:00pm t0 10:00pm.
This spectacular event will feature music, cocktails, celebrities, and City Officials.
RSVP: DMACIAS@CREATIVASGROUP.COM. Confirmation required to attend this event.
The launch event for Sharing Smiles will be a spectacular affair. Dr. Karent Sierra, Marybel Rodriguez and guests will celebrate in style as the River Lounge boasts a fabulous view and spectacular décor. Guests can expect to sip on delicious cocktails provided by Bacardi while overlooking the view of the Miami River. Event goers will rub elbows with two time Grammy Winner Jon Secada, world renowned shoe designer Donald J. Pliner, and co hosts of Lifetime Televisions "The Balancing Act" Beth Troutman and Kristy Villa. For those who are wine lovers Monteripoli will be on hand to provide samplings of their fine wines and olive products. 2 Girls and a Cup Cake will also be on hand to provide their delicious creations to those with a sweet tooth. The launch event for Sharing Smiles will not only be a major social gathering but a major step towards helping those who are a little less fortunate.
Dr. Karent Sierra for lack of a better term found her "calling." She feels Cosmetic Dentistry is about giving people back their long lost confidence through creating beautiful new smiles by design. Dr. Sierra is one person who knows beauty. The former beauty queen reigned as Miss Carnival Miami in 1992 and was a featured model on Latin TV working on various commercials, infomercials, and enjoying stints as a hand model. Dr. Sierra went on to study at Marquette University and earned her certification through the Las Vegas Institute which is regarded as the Mecca for cosmetic Dentistry.
Dr. Sierra specializes in full mouth extreme makeovers. The trust she has earned allows her a truly "fabulous" client following of some of Miami's most recognized smiles including: Jon Secada, Thomas Kramer, Tom Daily, famed shoe designer Donald J. Pliner and his wife (also a shoe designer) Lisa Pliner. Dr. Sierra considers her practice a dental boutique offering first rate treatment, state of the art equipment and the luxuries expected at a spa. At her practice one is expected to have all five senses stimulated. Aromatherapy, soothing music, beautiful visuals, relaxing sensations, and even something to delight taste buds are all part of a patient visit.
The idea of a dental visit usually conjures up old memories of nervously sitting in a waiting room way past the appointment time only to be called into a very sterile, cold, and intimidating office. Dr Sierra has a different outlook in her practice. Imagine walking into an office where you are surrounded by warm colors while hearing the relaxing sounds of a tranquility fountain. This welcome is really only enjoyed by the patient and accompanying loved ones as Dr. Sierra's office takes limited daily appointments to keep patients from waiting. Patients are brought into her office and are then made to dip their hands in warm paraffin wax while listening to soothing music to help keep the patient calm and relaxed. A 42 inch flat screen TV hangs in front of the dental chair which is really a leather spa massage chair and this point the patient will get the feeling that this is not a traditional dental visit. Giant X-ray machines are nonexistent in her office as she is way ahead of the curve by offering digital x-rays. No need to wear a lead vest or to even get out of your comfy spa chair. The normally intimidating dental tools that look straight out of a sci-fi movie are hidden out of sight. At this point Dr. Sierra works her magic.
Dr. Karent Sierra's goal is to provide grade A cosmetic dentistry without the fear and intimidation factor but replacing those elements with service, pampering and a one-on-one hands on approach. At her practice it is of utmost importance that all her clients are treated like first class guests. It is with this vision that Dr. Karent Sierra has reached such heights in her profession. South Florida's top professionals as well as recognizable "movers and shakers" will toast to Sharing Smiles and Karent Sierra Aesthetic Dentistry September 24th, 2009 from 7:00pm-10:00pm- join us as we say: "cheers."
For additional information and media inquiries, you may contact Creativas Group (305) 968-2384 and via email at: lmsantana@creativasgroup.com for media coverage and interviews. RSVP: DMACIAS@CREATIVASGROUP.COM. Confirmation required to attend this event.
Creativas Group Inc. provides public relations and marketing counsel to South Florida-based businesses, nationally recognized special events and leading non-profit organizations. For more information, please log onto www.creativasgroup.com.