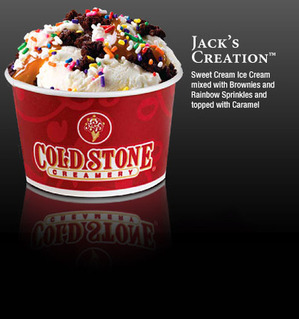 Cold Stone Creamery Staging World's Biggest Ice Cream Social, Thursday September 24
From 5 p.m. to 8 p.m., participating locations will be handing out free 3oz samples of Jack's Creation, in exchange for a donation to the Make-A-Wish Foundation.
The ice creamery is also selling paper "wishes" for $1 during the whole of September. Around 85 per cent of all donations for the entire month will go to the cause, which helps unwell kids' dreams come true (check out the heart-wrenching video on the website; I was blubbing within 30 seconds).
Jack's Creation, by the way, is a yummy-sounding concoction–consisting of sweet cream ice cream mixed with brownie, sprinkles and caramel –devised by a five-year-old Make A Wish kid named Jack.
Dig deep, people!