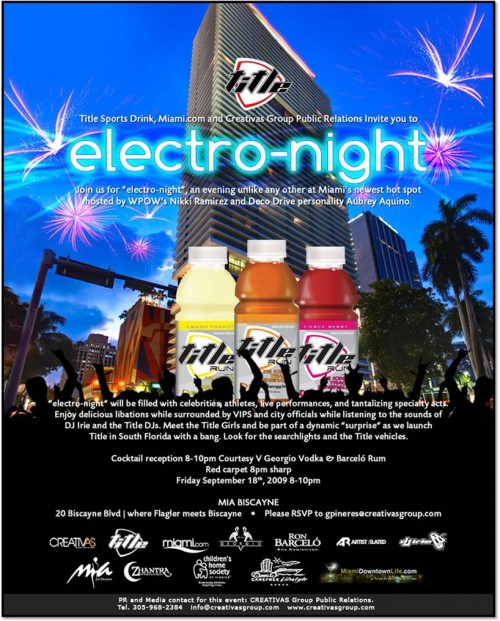 Electro-night at Mia Biscayne
Presented by Title Sports Drink, Miami.com, and Creativas Group Public Relations
Hosted by WPOW Nikki Ramirez, Deco Drive Aubrey Aquino
Sounds by DJ Irie and the Title DJs
Cocktail reception featuring V Georgio and Barcelo 8p-10p
Be sure to RSVP!
TITLE SPORST DRINK TO CELEBRATE THEIR SOUTH FLORIDA LAUNCH EVENT ELECTRO STYLE
Title Sports Drink, a new product that was produced for the new generation of athletes will launch in South Florida this Friday, Sept 18, 2009 at the fabulous 14,000 square foot entertainment complex Mia at Biscayne. The Launch event titled "electro-night" due to the high concentration of electrolytes in Title Sports drink will feature sampling of Title Sports Drink as well as specialty entertainment, light shows, and cocktails courtesy of V Georgio Vodka and Barceló Rum. The event will take place at South Florida's newest venue, Mia at Biscayne located at 20 Biscayne BLVD. Miami, Fl 33132, inside the 50 Biscayne Building.
Title Sports Drink was specially created for the new generation of athlete. Athletes such as Terrell Owens and the Miami Dolphins own Ronnie Brown believe in the product so much that they have joined the Title Team and became official representatives of the sports drink. Delicious in taste, Title is scientifically established to have more electrolytes than Gatorade® and more natural energy than any drink on the market. Title proudly claims the top spot nutritionally with half the sodium and sugar of other sports drinks. Its all natural, proprietary formulation fuels the body with the perfect blend of electrolytes and ionic trace minerals. Athletes don't experience the crashes or cramping that are associated with other sports drinks. No sodium danger, no high fructose corn syrup, and no fake colors make Title Sports Drink the go to drink for any athlete that is aiming for the title.
The Title Sports Drink Electro-Night event plans to be so spectacular that a street closure on the corner of Flagler and Biscayne was needed to accommodate all event elements. Hosted by WSVN 7 Sports anchor Donovan Campbell, Power 96's Nikki Ramirez and WSVN 7 Deco Drive and on the Flipside personality Aubrey Aquino, this event kicks off at 8p.m. with an outdoor cocktail reception and a special performance by the world renowned NBA Miami Heat DJ Irie. A list of confirmed celebrity athletes will show their support for Title Sports Drink as they grace the red carpet for this amazing affair. Confirmed celebrity athletes include the Miami Dolphins own Chad Pennington, Ayken Ayodel, Patrick Turner, Will Allen, and Jason Ferguson. Former NBA player and South Florida native Mitch Richmond along with former NFL players Harold Morrow and Moe Williams will also be present. Other confirmed celebrities are Daymond John, founder of FUBU, Univision personality Tony Dandrades, Sabado Gigante personalities Karol Rosa, and Rosina Grosso. Local celebrities Adriana Cataño, Two time Latin Grammy winner Jorge Moreno, and Tito Puente Jr. will also be on hand for the festivities. Reality TV stars to include: Anchal Joseph from America's Next Top Model Cycle 7, Sheena Satana, America's Next Top Model Cycle 11, recording artist Kevin Lyttle, Island Def Jam recording artists Git Fresh, MTV Road Rules winner Rachel Robinson, Maisi Baserva from Logo Television's Gimme Sugar, International male fitness model Charles Justo, and Francisco Baserva from VH-1's "Megan Wants a Millionaire" will be present to support Title Sports Drink.
Elements of this event were carefully chosen to represent light and energy to parallel the electrolytes in Title Sports Drink. Specialty entertainment that will be enhanced with light will dazzle guests as they sip on cocktails courtesy of Barceló Rum and V Georgio Vodka. Guests will also have the opportunity to sample TitleV which is a fabulous cocktail that is a mixture of Title's lemon flavored sports drink with V Georgio Vodka. In addition, those present will have the opportunity to sample selections from the Mia at Biscayne menu created by renowned Chef Gerdy Rodriguez. The beautiful Title Girls will also be on hand to mix and mingle with guests as they sample Title Sports Drink. At 10 p.m. the festivities will move indoors into the new and luxurious Mia at Biscayne, created by designer Isaac Valdes. Once inside event guests will dance away to three carefully chosen DJ's that will compete in a spin off that will secure one of them a spot as the official Title Sports Drink DJ. Search lights, Title vehicles and a fabulous crowd will mark the location for this festive soiree.
For additional information on Title Sports Drink, please contact: Creativas Group (305) 968-2384 and via email at: info@creativasgroup.com for media coverage, and interviews. Please log onto: http://www.titlesportsdrink.com for more information. The Title launch reception will take place from 8-10pm, and a red carpet from 8-9:30pm. RSVP AND CONFIRMATION REQUIRED TO ATTEND.
Creativas Group Inc. provides public relations and marketing counsel to South Florida-based businesses, nationally recognized special events and leading non-profit organizations. For more information, please log onto www.creativasgroup.com or email info @ creativasgroup.com.