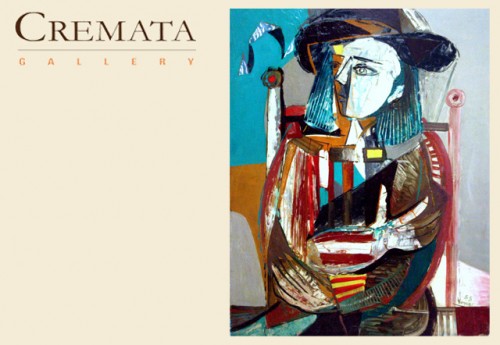 Cremata Gallery presents Argentine Visions: from Modernism to Contemporary Aesthetics
Friday, September 18th, 2009. 7:30 p.m.
Bruno Venier. "Primavera" 1955. Oil on wood. 30″ x 40 ". Illustrated in the book by Petit de Murat, Haedo and Ganuza, "Bruno Venier", Buenos Aires, 1984
Location: Cremata Gallery. 1646 SW 8th Street. Miami, FL 33135
Dates: From September 15th through October 3rd, 2009
Admission: Free
Regular hours: Tuesday – Saturday 12:00 – 6:00 p.m. and Mondays by appointment
Argentina is a major center for Latin American art where artists thrive, particularly in the vibrant and active cultural milieu of Buenos Aires, but also in the provincial capitals. Known and appreciated around the world, Argentine artists of the twentieth century have consistently absorbed global artistic trends without losing their national identity.
Cremata Gallery is pleased to present Argentine Visions: from Modernism to Contemporary Aesthetics, an exhibition featuring an exciting collection of acrylics, oils, collages, inks, and watercolors, from the fifties to today. From Italo-Argentine Modernist masters Bruno Venier and Carlo Monzani, who has exhibited at the Guggenheim Museum in NYC, to contemporary artists living in Argentina, Cremata Gallery is showcasing 17 artists with very different styles. Like U. S. art, Argentine art has a strong flavor of the melting pot, that has lately been turning from European influences to its native resources. Many of the paintings and water colors in the show were inspired by the École de Paris, from staid academic works to surrealism. Others are more indigenous.
Join us for this awaited show and enjoy Malbec wines, Argentine hors d'oeuvres and a special Tango performance by Claudio y Yanira, who teach Tango at the Alliance Francaise of Miami every Monday evening.
Cremata Gallery
1646 SW 8th Street
Miami, FL 33135
Ph: 305.644.3315
Cell: 305.300.0068
Fax: 305.644.3319
cremata@crematagallery.com
www.crematagallery.com
For more information about local openings and events, please visit www.miamiartguide.com