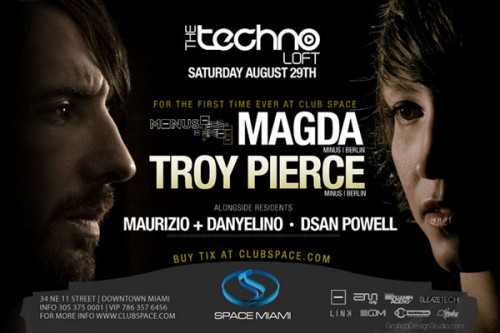 As if Desyn Masiello on The Terrace wasn't enough, Space and the Techno Loft are extremely proud to present two more legends, continuing their dedication to cutting-edge and underground sounds.
This Saturday, August 29th, the Techno Loft plays host to two of the top DJ/Producers in the genre, Magda and Troy Pierce.
Hailing from Poland, Magda (real name Magdalena Chojnacka), got her start in the mid 1990s in New York's then-vibrant dance music scene. With all forms of dance music gaining headway, she rapidly grew with it, gaining notoriety both on the decks and in the studio for her uncompromising sound. Changing attitudes in the Big Apple led her to depart in 2003, bringing her to her current home of Berlin. It was in Berlin where her current sound began to develop. Partnered with Troy Pierce and Marc Houle, she began to take advantage of the new possibilities present in production and DJing techniques brought upon by affordable new hardware and software. Eventually catching the attention of Richie Hawtin, Magda soon began to release material on Hawtin's influential Minus label. Of course, never complacent, Magda soon established her own label, Items and Things, where she continues to produce to this day.
Joining her also this evening will be Troy Pierce. A longtime collaborator of Magda's, Indiana native Pierce took his influence from the dynamic scenes of Chicago and Detroit. With Chicago as the stronghold of house, and Detroit the birthplace of techno, Troy's style naturally has been hard to classify, with both of those genres and more, making it into his record bag. Soon after, with a stopover in New York in the late 1990s, Troy eventually moved to Berlin, where he began to work with Magda and Marc Houle. Encouraged by the two, Troy readily adapted his style to the new flavors and technology coming out of Germany's capital, with an insatiable desire to satisfy the city's notoriously picky club culture. This all paid off in 2006, with Troy hitting the road with Magda and Richie himself for a massive US tour, which solidified his name as one of the "go-to" guys in the techno and minimal scene.
And of course, the night will be rounded out by Techno Loft residents Maurizio + Danyelino and Dsan Powell.
Click here to purchase tickets
Thank you for using Soul Of Miami!