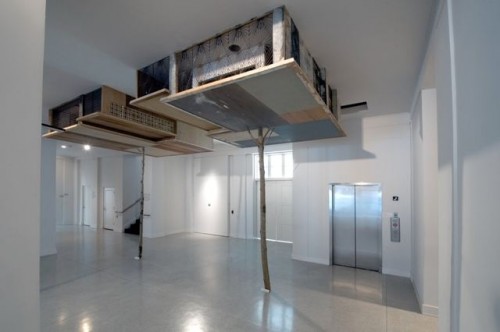 Reception – Simon Starling: Inverted Retrograde Theme, USA (House for a Songbird)
Friday, August 28 – 7-9PM
Conceptual artist Simon Starling (b. 1967 Epsom, England) explores the relationships between craft, material, technique, social history, association and memory. Inverted Retrograde Theme, USA (House for a Songbird) is comprised of two scale models of prefabricated single-family houses that are pinned to the ceiling by tree branches. They are each a one fifth- scale recreation of existing homes located outside San Juan, Puerto Rico. Built in the 1960s, these houses were part of a postwar philanthropic effort in developing countries, financed by the New York-based Rockefeller Foundation.
Overlapping traditions, geographies and historical narratives, Starling combines the modernist theories of architect Simon Schmiderer (born Saalfedlden [Salzburg Province, Austria], 1911); died Highland Beach, FL April 2001), and Austrian composer and theorist Arnold Schonberg (born Vienna, 1874; died Los Angeles, 1951) who, in both of their respective fields, created rigid systems based on modular logic which were intended to enhance creativity. The architect was influenced by the composer, and was known to incorporate his musical theories in his work.
Simon Schmiderer, a faithful modernist, was best known for his "serial" housing, his motto being "one house in one hour." He was the architect for the extensive residential building project in Puerto Rico during the 1960s, basing his designs on pre-formed, inexpensive, concrete modules with ample open windows, omitting glass to "integrate" the interior and exterior. The wire mesh around the houses represents the security measures the actual inhabitants of the project in Puerto Rico took to maintain their safety in the high-crime area, as the original architectural plan dismissed the inhabitants' practical needs, and was comprised of all open spaces with no security. The sound of singing birds coming from inside the seemingly caged homes completes the startling visual metaphor.
The architect adapted the composer's serialist techniques in his work, and Starling illustrates this idea into the installation by mirroring the structures. The title for the installation is derived from Schonberg's compositional system which can be played as "original," "inverted," "retrograde" or "inverted retrograde." Aspects of inversion and translocation (characteristic for twelve-tone music) were added to offer a new perspective of the modernist idea. Starling takes Schoenberg's ideas further by flipping the houses upside down and pinning them to the ceiling, each balanced by one thin mahogany branch. The exhibition is on view through September 13, 2009.
Please join us on Friday August 28, from 7-9PM for a special reception. Beverages compliments of Dziac, Grolsch, and Cafe Bustelo. Hot Nights Cool Jazz featuring the Dave Fernandez Quartet from 7-9PM.
Free for Bass Museum members; $10 non- members.
Details for above image: Simon Starling Inverted Retrograde Theme, USA (A House of a Song Bird), 2002 Wood, iron, mahogany, metal, tree trunks, birds Collection of Debra and Dennis Scholl, Miami Beach, FL
The Bass Museum of Art wishes to thank Debra and Dennis Scholl for lending this work to the exhibition.
Bass Museum of Art
2121 Park Avenue (in Collins Park)
Miami Beach, FL 33139
T: 305.673.7530
bassmuseum.org
The Bass Museum of Art is generously funded by the City of Miami Beach, Cultural Affairs Program, Cultural Arts Council; with additional support provided by Miami-Dade County Department of Cultural Affairs, the Cultural Affairs Council, the Miami-Dade Mayor and the Board of County Commissioners; State of Florida, Department of State, Division of Cultural Affairs, the Florida Arts Council and the National Endowment for the Arts; and Friends of the Bass Museum, Inc.