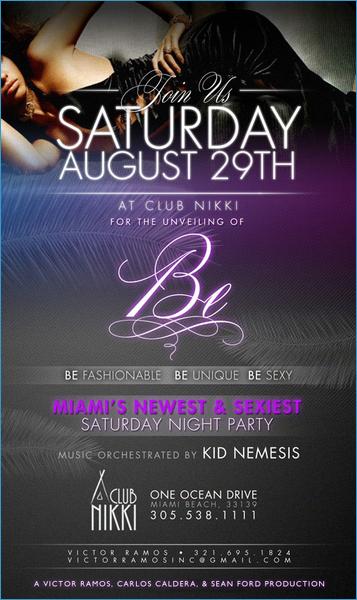 You are cordially invited to the Grand Opening of
'Be' Saturdays at Club Nikki
Saturday, August 29, 2009
Join us for the preview of 'Be' Saturdays at Club Nikki. Occupying the legendary One Ocean Drive at South Beach's southernmost tip, the Nikki Beach flagship attracts the finest in Miami, the surrounding areas, and hundreds of European travelers a year.
Formerly the restaurant Pearl, Club Nikki was created in 2008 as a fully-equipped nightclub to complement the second-to-none beach club parties enjoyed on Sundays by so many. Club Nikki offers a definitive mix of what Miami Beach is known for — leggy models, entertainers, local trendies, and more all travel there to revel in the non-stop scene.
The Travel Channel described Nikki Beach Miami as "the hottest party in South Beach and one of the hottest in the world" setting the scene with "high rollers enjoying full food and VIP bottle service in the club's sexy cabanas and lounge beds."
Saturdays at Club Nikki.
Be Fashionable. Be Unique. Be Sexy.
Most importantly, Be there.
RSVP
Thank you for using Soul Of Miami!