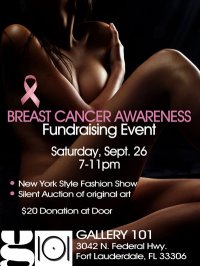 Gallery 101
$20 at door (goes to charity)
Saturday, September 26, 2009
7:00pm – 11:00pm
3042 N. Federal Hwy., Fort Lauderdale, FL
Facebook Event Page
Gallery 101 will present a NY style runway show with breast cancer survivors in their best and most outrageous pink runway outfits. Plus, a silent auction of artwork from the resident artists of Gallery 101 and other products and services will also be on auction as well. This is a great opportunity to buy some great art and contribute to a fantastic charity. Broward General Comprehensive Breast Center, opened in June 1998, offers a full spectrum of cancer care to meet the needs of the people of Broward County. Gallery 101's goal is to present a check for $10,000 to the center.