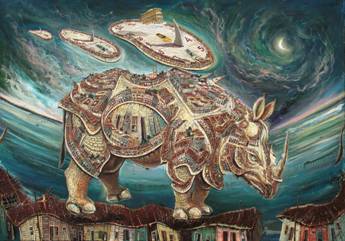 FROM A STRANGE TOWN
A ONE-PERSON EXHIBITION BY VICENTE HERNÁNDEZ at Cernuda Arte
OPENING RECEPTION WITH THE ARTIST: FRIDAY, SEPTEMBER 4, 7-10 P.M.
Cernuda Arte will host an exhibition of artwork by contemporary Cuban artist, Vicente Hernández entitled, From a Strange Town. The exhibit which inaugurated at the Servando Gallery in Havana will now show in Miami, Florida. The artist has been granted a visitor's visa by the US government to attend the Opening Reception of his solo show at the gallery on Friday, September 4, from 7:00 to 10:00 p.m.
Vicente Hernández has had one-person exhibitions in Cuba, The Dominican Republic, Puerto Rico, Panama, Venezuela, Spain, and the United States. This will be the artist's second personal exhibition in the USA. Hernández resides with his family in Batabanó, Cuba and is represented by Cernuda Arte world-wide.
The exhibition, From a Strange Town, comprises more than thirty works on canvas and is accompanied by a thirty-six page full color catalog. Hernández' paintings, grand in scale and vibrant colors, reveal a convoluted universe in which surreal elements and artifacts of multifarious nature move and float freely about in navigable seas and skies. Inspired by his native surroundings in Batabanó (a fisherman's town south of Havana), the artist approaches his main plastic discourse – the massive migrations of people – from a contemporary perspective. In a distinct style of his own, the painter renders riveting and thought-provoking images, reminiscent of noteworthy painters who have marked history.
As professor, art critic and curator, Alejandro Anreus comments,
"…Recently I encountered the work of a young painter living and working in Cuba which has simply amazed me. His name is Vicente Hernández. He is a native son of Batabanó and a painter with a capital P. His pictures, canvases that range in size from the modest to the monumental, are synthesis of good drawing, balanced composition and painterly colors. Floating neighborhoods and islands inhabit his paintings, as do boats and ships, towers and flying machines. Within each one of these universes we encounter other worlds, where people struggle, make love, dream and escape, while animals are curious witnesses to human folly. Although I might find some antecedent "family member" within Cuban painting in Hernández' work… I choose to see him as a homegrown Brueghel from Batabanó. Like the Flemish master, Hernández is very much a moralist with a compassionate sense of humor. Brueghel was anchored in the humanism of Erasmus. I have been told Hernández is a devout Baptist, therefore he is probably anchored in this most libertarian of Christian faiths."