Click on flyer for larger version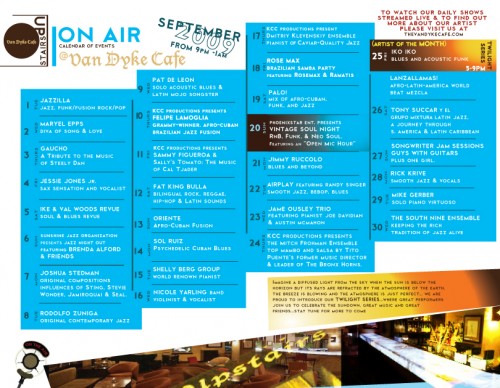 AUGUST MUSIC SCHEDULE at the VAN DYKE CAFE.
Showcasing the best in Jazz, Rock, Latin, Brazilian, Funk, Blues, and Songwriters, the VAN DYKE continues its musical legacy live on Lincoln Road and on our nightly webcam broadcasts (http://www.thevandykecafe.com).
We are committed to providing the highest quality of music OF ALL STYLES 7 nights a week in a fun concert style venue. We also feature the "TWILIGHT SERIES" which is a monthly outdoor VAN DYKE Lincoln Road music festival from 5-9pm.
We also present our monthly "VINTAGE SOUL", a live music showcase and open mike night featuring the best in R&B, Funk, Jazz and Neo Soul.
SEPTEMBER Schedule
1- Jazzilla Jazz, funk/fusion rock/pop.
2- Maryel Epps Diva of song and love.
3- Gaucho A tribute to the music of Steely Dan.
4- Jessie Jones Jr. Sax Sensation on the jazz charts with his new cd.
5- Ike & Val Woods Revue. Soul and blues revue.
6- Sunshine jazz organization presents Jazz Night Out featuring Brenda Alford and Friends
7- Joshua Stedman Original compositions influences of Sting, Stevie Wonder, Jamiroquai & Seal.
8- Rodolfo Zuniga Original contemporary Jazz.
9- Pat de Leon Solo acoustic blues & Latin mojo songster.
10- KCC Productions presents Felipe Lamoglia Grammy-winner. Afro-Cuban, Brazilian Jazz fusion.
11- KCC Productions presents Sammy Figueroa and Sally's Tomato The music of Cal T Jader.
12- Fat King Bulla Bilingual Rock, Reggae, Hip Hop & Latin sounds.
13- Oriente Afro-Cuban fusion.
14- Sol Ruiz Psychedelic Cuban Blues.
15- Shelly Berg Group World renown pianist.
16- Nicole Yarling Band Violinist & vocalist.
17- KCC Productions presents Dmitriy Klevenskiy Ensemble Pianist of caviar-quality jazz
18- Rose Max Brazilian samba party.
19- Palo! Mix of Afro-Cuban, funk and jazz.
20- Phoenixstar Ent. Presents Vintage Soul Night R&B, Funk, and Neo soul. Featuring an "Open Mic Hour"
21- Jimmy Ruccolo Blues and Beyond.
22- Airplay featuring Randy Singer Smooth jazz, Bebop, Blues.
23- Jame Ousley Trio featuring pianist Joe Davidian & Austin McMahon.
24- KCC Productions presents The Mitch Frohman Ensemble Top Mambo and Salsa by Tito Puente's former music director and leader of the Bronx Horns.
25- Artist of the month, Iko Iko Twilight Series 5-9pm. Blues and acoustic Funk Lanzallamas! Afro-latin-america world beat mezcla.
26- Tony Succar y el Grupo Mixtura Latin Jazz. A journey through S. America and Latin Caribbean.
27- Songwriter Jam Sessions Guys with Guitars plus one girl.
28- Rick Krive Smooth jazz and vocals.
29- Mike Gerber Solo piano virtuoso
30- The South Nine Ensemble Keep the rich tradition of Jazz alive.