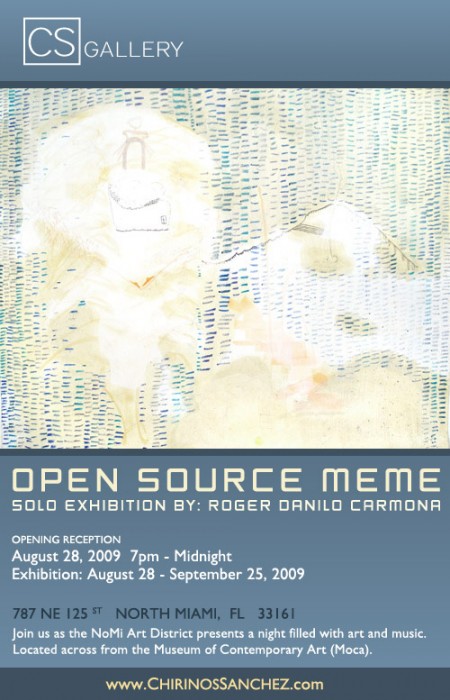 CS Gallery
787 NE 125 St, North Miami, FL 33161
ROGER DANILO CARMONA
Open-Source Meme
August 28 – September 25, 2009
Chirinos Sanchez is pleased to present an exhibition of works on paper by Nicaraguan-American artist Roger Danilo Carmona.
This is the artist's first solo exhibition in our gallery. The artist previously curated the exhibition "Fresh Ingredients", in our first gallery exhibition debut in August 2007.
(Image Title: Mustard Seed and Yogurt Pullao, 2007, Gofun, crayon, oil on paper)
For the current show, the artist splits the gallery into three sections: The Pyramid, The Character and The Action.
Upon entering the gallery to the left, The Pyramid consists of a collection of twenty-eight works on paper made within the last two years. The Pyramid is seen as a surrogate of a social response, where each drawing requests an act of open conversation. The form of the upside-down pyramid, in its bizarre composition and language, is reminiscent of a structure which the artist's ancestors – possibly Mayan – built. The colorful gesture and fresh compositions in some of the drawings contradict the communication which other drawings of a more serious, hermitic action make the viewer consider.
To the right of the gallery, The Character consists of five "portraits". In the initial appearance of the drawings, the forms are much more complex in their character than the opposite wall. The artist speaks of these drawings "as individuals that crave a position of higher power. The ways in which the forms are drawn are examples of the type of "Bernie Madoff" characters that walk among us." These drawings were made during the artist's study at The Milton Avery School of Arts, Bard College in upstate New York, where he is a 2010 MFA candidate.
The third section of the gallery represents The Action. The work consists of two drawings that meet in the corner. The meeting is seen as a conflict that establishes territory through repetitive discourse.
Roger Danilo Carmona (b. 1983 Leon, Nicaragua) lives and works in Brooklyn, NY.