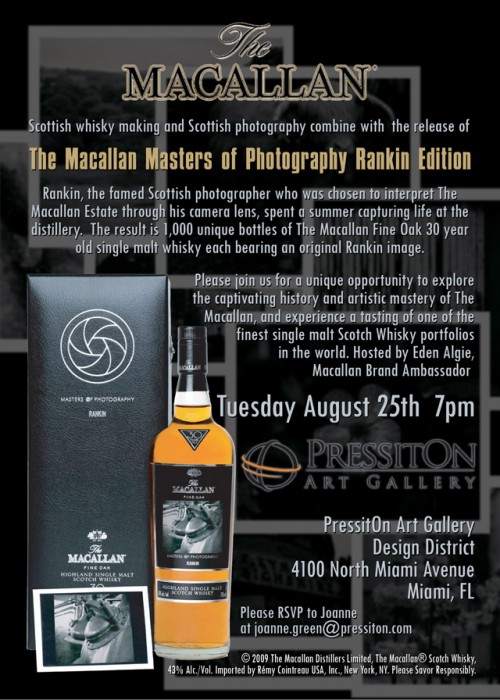 Tuesday, August 25 from 7:00 p.m. to 9:00 p.m.
PressitOn Art Gallery:
Design District, 4100 North Miami Avenue, Miami, Fl. 33127
From his sultry shot of songstress Kylie Minogue lying naked and prostrate to the Queen smiling enigmatically, Rankin's iconic, intimate portraiture style have made him one of the world's leading photographers. Who better to interpret the famed Macallan Estate than the mischievous eye of Scotland's finest. The result: 1,000 unique bottles of The Macallan Fine Oak 30 year-old single malt scotch whisky, each bearing an original, black-and-white, Rankin image. Join us we celebrate the southeastern launch of The Macallan Masters of Photography and sample for yourself one of the world's finest single malt scotch whisky portfolios.
Please RSVP to joanne.green@pressiton.com
For more information on Rankin: www.rankin.co.uk
For more information on Macallan Masters of Photography Rankin Edition: www.themastersofphotography.com