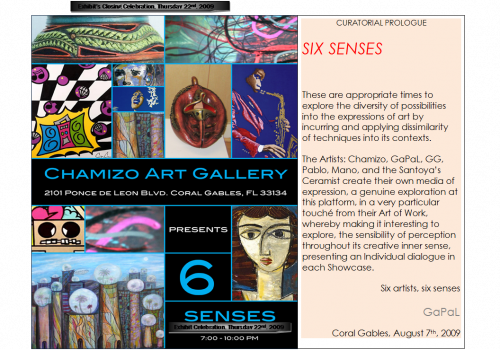 6 SENSES ART EXHIBIT CLOSING CELEBRATION
at CHAMIZO ART GALLERY, 2101 Ponce de Leon Blvd., Coral Gables, Fl
This coming Thursday, August 20th, 2009 from 7:00 pm-10:00 pm, Chamizo Art Gallery, will welcome guests for the Group-Art Exhibit: "6 Senses".
We invite you to our gallery for the closing of this season. We will be closed for vacations throughout the month of September .
We pride ourselves in offering excellence in our exhibits and a responsibility to the art community and the artists who are part of it. The artists: CHAMIZO, GAPAL, GG, MANO, PABLO, and "Exotic Ceramic Art" group, offer us another glimpse at their work on this unique exhibit and a new opportunity to acquire any of the pieces you have so kindly praised. Don't miss this chance.
This is a free event, offering wine and cheese, but specially fine art. All of which is made possible thanks to the generosity of our sponsors and hard work of the artists and staff involved.
Below and the Aug. 7th, curatorial prologue, (displayed at the exhibit).