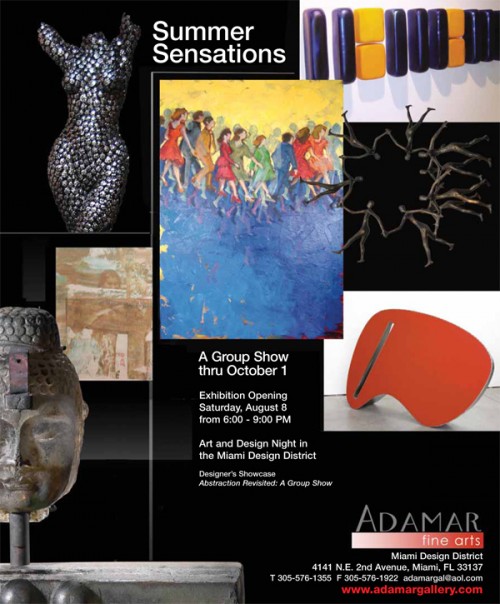 ADAMAR FINE ARTS presents: SUMMER SENSATION: A GROUP SHOW
August 8 – October 1, 2009
Opening reception Saturday, August 8th, 2009, 6 – 9 pm
Exhibiting Artists: Group Show of Gallery Artists
Join us in our MIAMI DESIGN DISTRICT location at 4141 Design Building, in the heart of the Miami Design District.
4141 NE 2nd Avenue, Suite 107
Miami, FL 33137
About Adamar Fine Arts
Adamar Fine Arts is a 22 year old gallery located in the heart of the Miami Design Disrtict in the 4141 Design Building. We represent contemporary paintings, sculpture, photographs and installations by prominent local and international artists. Among others we represent the works of Picasso, Chagall, Dine, Rauschenberg, Borower,Jamali, Morris, Rietmeyer, Tolla, Rose, Niso and Velez.
www.popnart.com
Thank you for using Soul Of Miami!