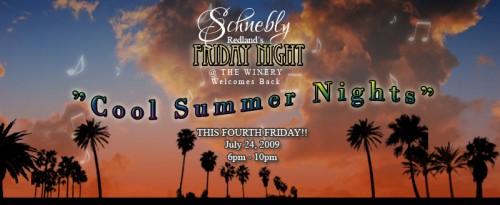 Join Us Friday July 24th for Schnebly's Friday Night @ The Winery
The Winery's "Cool Summer Nights" Music Series presents
The Winery invites you to enjoy the cool atmosphere of the Redland's own tropical paradise. Cool down with a delicious bottle of wine and chill out with some of your fellow Winery fans, as we all enjoy the groovy sounds of live unplugged music.
This 4th Friday, July 24, the Winery will be having its "Cool Summer Nights" Music Series from 6 p.m. to 10 p.m. "Cool Summer Nights" is so excited to welcome Soul Do Mato! This talented band formed in Miami – blending a mixture of Latin, Jazz, Soul, Reggae, combined with the lead singer's sultry voice, promises to bring an amazing sound that our Winery fans will enjoy. For more information about this band click here.
Only during the summer, in lieu of catered food, the Winery invites you to pick up a meal or pizza from our friends at the Capri Restaurant, from home or your local market. The Winery continues to offer its infamous wine specials you have come to love at Friday Night @ The Winery. Stop by our retail room and pair up your favorite wines with some of our delectable cheeses, grab an ice bucket, and enjoy an evening picnic under the stars.
Make sure to purchase your bottle during our Happy Hour – Buy a Bottle, Get One Free from 6 p.m. to 7 p.m. inside our retail room. Also available in the retail room are gourmet cheeses and crackers for purchase.
Our friends at Capri Restaurant will be offering a selective menu this Friday for pick up. Certain items on the menu need to be ordered 24 hours in advance, so visit http://www.dinecapri.com or Capri at call 305-247-1542 for more information. If you mention Schnebly, you will receive a 10% discount on all food to-go.
* Catered food will not be available at the Winery for purchase during our summer series.
* No outside beverage will be allowed
This upcoming fourth Friday, July 24, come and join us at Schnebly Redland's Winery for "unwine & unplugged" – the Winery "Cool Summer Nights" Music Series.
-Call 305-242-1224 to reserve your table today, or email events@schneblywinery.com
with your table selection, number of guest, and phone number where you can be reached.