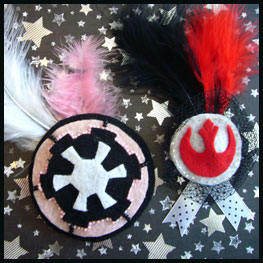 Stitch Wars Couture!
on Friday, July 31st from 6pm – 9pm
Cupcake Amanda whipped up these adorable Star Wars-inspired couture headpieces in honor of the current exhibition taking place upstairs at Bear and Bird. The show Stitch Wars is an amazing exhibition featuring all kinds of lovely handmade items. You can check it out online here.
The samples shown are Fascinator Style headpieces featuring the insignia's of either the Rebel Alliance or Galactic Empire… depending on your inclinations! (If you are of the male persuasion, you will have the option of making a keychain since it is probably unlikely that you'll want to sport a feathered fascinator!) Exactly how your creation turns out is also going to depend on your tastes! It will be one of a kind of course! :-)
Please note that this workshop is on a FRIDAY NIGHT, instead of the usual Sunday. It was either do it on a Friday or skip the whole month! :-)
It's been a busy summer!
All materials and light refreshments supplied to workshop attendees..
When: Friday, July 31st from 6pm – 9pm
Where: In the Bear and Bird Gallery, Upstairs at TATE'S
4566 N. University Drive, Lauderhill, FL 33351
954-748-0181 Directions
How: Pre-register online or in-store.
$20 Workshop Fee, includes all materials and light refreshments.
Space is limited to a 24-person group, so pre-register now!
http://bearandbird.mybisi.com/product/47028/StitchBird-July-Workshop-Stitch-Wars-Couture_895866.html
If you have any questions about this workshop, please contact Cupcake Amanda info@rockthestitch.com
since I (Bear and Bird Amanda) will be out of town until Thursday, 8/30!
You may also register in-store at TATE'S. Just ask up at the front register.
All classes are intended for ages 12 and up.
No refunds on workshop fees, but if you cannot make it, you can send a friend in your place!