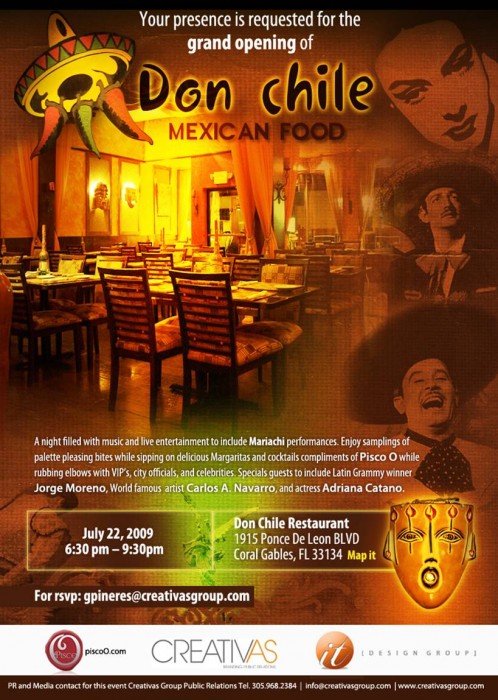 DON CHILE OPENS AND ADDS SOME "SPICE" TO THE "CITY BEAUTIFUL"
Coral Gables which is no stranger to housing great eateries is about to add a dash of spice to those who like it a little hot. Don Chile restaurant is ready to take its spot as the best authentic Mexican restaurant in South Florida as owner/chef Erubiel Gutierrez displays his heritage and culinary artistry with a grand opening celebration that will feature music, food, and margaritas! Located on Ponce De Leon Don Chile should be a favorite of the Miracle Mile business sector and residents of Coral Gables.
Don Chile with the help of Creativas Group Public Relations have planned a grand opening event that will feature live mariachi performances, cocktails, food, celebrities, VIP's, and city officials. A ceremonial ribbon cutting will be spear headed by Coral Gables city officials and the Coral Gables Chamber of Commerce. Celebrities Adriana Cataño, Latin Grammy winner Jorge Moreno, and renowned artist Carlos A Navarro will be on hand for the celebration. Guests can expect to sip on delicious margarita cocktails compliments of Don Chile. Pisco O, which is a high end Peruvian brandy, will also be a featured spirit at the festivities. The Grand Opening of Don Chile will feature bite sized versions of Chef Erubiel Gutierrez's dishes.
Born in Campeche, Mexico Erubiel Gutierrez is no stranger authentic Mexican Cuisine. Gutierrez who graduated from the Iniciacion University with a degree in graphic design could not keep himself out of the kitchen and thus spent 16 years honing his culinary skills working out of various restaurants. Gutierrez grew tired of the extremely casual or basterdized franchise Mexican restaurants that promoted themselves as authentic. He envisioned a restaurant that would feature true Mexican dishes. To Gutierrez the food from his birth land is an art.
Mexican food is considered by many to be one of the first great fusion cuisines created when 4th century Spaniards imported rice, pork, beef, wine, and other ingredients and fused them with the foods of the indigenous Aztec and Mayan Indians. Gutierrez is a master at creating food with varied flavors, colorful decoration, and combinations of spices and ingredients that true Mexican food is known for. His love of heritage and food finally gave way to his dream of opening his own restaurant which features "Las recetas de Mama" or mothers own recipes.
Don Chile is a family restaurant which features traditional dishes. What amazes most is how balanced the food is. No one ingredient overpowers another which is the opposite with most Americanized Mexican restaurants. The menu is filled with favorites like fajitas, flautas, and carne asada as well as not so well-known traditional Mexican dishes like Torta Chilanga, Pato Castellano which is a dish featuring duck, and the very interesting pickled oyster dish which is an excellent combination of pickled seafood and vegetables.
One can expect to enjoy their meal with a margarita or two while taking in the décor which was designed professionally. The design of this charmingly casual restaurant strikes a perfect blend between traditional and modern décor. Don't expect overly ethnic décor such as clay pottery or cactus plants. Warm colored fabrics drape from overhead while stunningly oversized pre-Columbian styled masks adorn the walls.
Gutierrez's vision which is to extend his rich heritage to the masses, is about to come to fruition. Gutierrez wishes to welcome the public to a grand opening celebration on July 22nd from 6:30-9pm that will be a spectacular affair featuring a ribbon cutting, Coral Gables city officials, Mexican Chamber, Mexican Consulate, local celebrities, and VIPS as well as a ribbon cutting ceremony.
For additional information on Don Chile in Coral Gables located at 1915 Ponce De Leon BLVD 33134 and via phone at 305-461-1566.P lease contact: Creativas Group (305) 968-2384 and via email at: info@creativasgroup.com for media coverage, and interviews. Don Chile can be "followed" on Twitter, My Space, Face Book, Miami Urban Life and www.donchilemiami.com.