ART DECO FILM SERIES
Tuesday 12 May 7:00 pm
FILM NOIR CLASSICS
Film noir, a cinematic term used primarily to describe stylish Hollywood crime dramas, often emphasizes moral ambiguity and sexual motivation, derived from the hard-boiled school of crime fiction that emerged in the United States during the Depression. Hollywood's classic film noir period is generally regarded as stretching from the early 1940s to the late 1950s, and films of this genre are associated with a low-key black-and-white visual style that has roots in German Expressionist cinematography.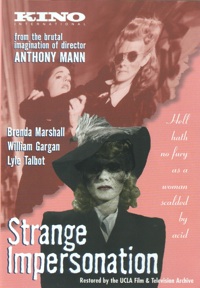 Strange Impersonation
Directed by Anthony Mann
USA/1946/68 minutes/B&W
Hard-boiled film noir masquerading as a women's melodrama, Strange Impersonation is a twisted tale of jealousy, murder, revenge and facial disfigurement from director Anthony Mann (T-Men, Raw Deal). Brenda Marshall stars as Nora Goodrich, a single-minded scientist who spurns marriage for the sake of her pioneering work with anesthetics. When her jealous lab partner (Hillary Brooke) sabotages an experiment, Nora's face is badly scarred, and–through a twist of fate–she swaps identities with a devious blackmailer (Ruth Ford), letting the world believe she is dead. Under the guise of Jane Karaski, Nora has her face surgically altered, establishes a new career and works her way back into the lives of her former enemies and lovers, where she can carry out her carefully planned revenge. Free admission.
Location: Art Deco Education Center at Historic City Hall, 1130 Washington Av, Miami Beach
Information: 305-672-2014 or www.mdpl.org