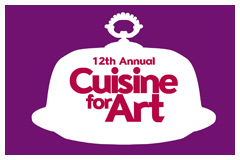 12th Annual Cuisine for Art
Thursday, May 14, 2009
Seminole Hard Rock Hotel & Casino
Click here to purchase advanced tickets or to see more information about sponsoring this event.
Enjoy a fun and festive fund-raiser featuring public officials turned celebrity waiters; sumptuous food; wine, vodka, and beer; and a fabulous silent auction featuring vacation packages, bountiful gift baskets, sports and entertainment memorabilia, fine collectibles and more.
The evening begins with a 6 pm cocktail reception compliments of Southern Wine & Spirits and Grolsch. Dinner and silent auction will follow.
Advanced ticket sales extended through Wednesday, May 13 at noon. Buy yours now!
To purchase tickets, call 954. 921. 3274, download an RSVP form (pdf), or click the "Buy Now" button here.
Click here to bid in the Online Auction portion of Cuisine for Art. There's only two days left to bid!
Celebrity Waiters:
Hon. Eleanor Sobel, State Senator
Hon. Joseph A. "Joe" Gibbons, State Representative
Hon. Elaine Schwartz, State Representative
Hon. Sue Gunzburger, Commissioner, Broward County
Hon. Jennifer Gottlieb, Vice Chair, Broward County School Board
Hon. Robin Bartleman, Broward County School Board Member
Hon. Ann Murray, Broward County School Board Member
Hon. Kevin Biederman, District Commissioner, Central Broward Water Control
Hon. Peter Bober, Mayor, City of Hollywood
Hon. Beam Furr, Vice Mayor, City of Hollywood
Hon. Patricia Asseff, Commissioner, City of Hollywood
Hon. Dick Blattner, Commissioner, City of Hollywood
Hon. Heidi O'Sheehan, Commissioner, City of Hollywood
Hon. Fran Russo, Commissioner, City of Hollywood
Hon. Linda Sherwood, Commissioner, City of Hollywood
Hon. Virgil Fernandez, Fire Rescue & Beach Safety Chief, City of Hollywood
Neil Fritz, Executive Director, Downtown Hollywood Community Redevelopment Agency
Art and Culture Center of Hollywood
1650 Harrison St.
Hollywood, FL 33020
954. 921. 3274
ArtAndCultureCenter.org